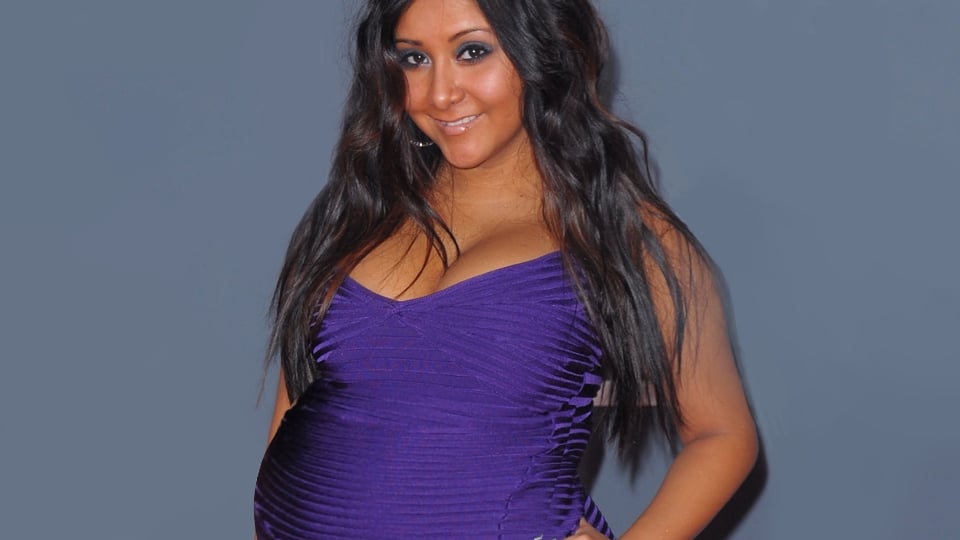 A new preferred hawt bixch will soon grace us with its presence. The reason I say "it" is because the hawt bixch I am referring to is Snooki's fetus, and I'm not quite sure of the sex yet.If you don't know already, fetuses are so chic right now. Beyonce's fetus had its own twitter account while she was pregnant, and Kourtney Kardashian's son baby Mason made his first television debut as a fetus. Tons of them have reality shows these days, but what makes this fetus so exciting is that it will soon be surrounded by massive spray tan consumption, clubbing, and grenades.
Yes, you heard correctly, pregnant Snooki is about to bring up the shore house roommate count 81/2.
Monday morning MTV announced that filming for season 6 will begin in the summer of 2012 and "America's favorite housemates will all return to their home-away-from-home, and the house dynamic is headed into unchartered territory … as their lives outside the 'Shore' take off in exciting new directions."
Unchartered territory is an understatement. Can you picture Snooki swapping vodka shots for prenatal vitamins? Will her baby bump make an appearance at the club?
So many unanswered questions are sure to bring rise to the slumping ratings (the season 5 finale had 25% fewer viewers than the premier of that same season).
Let's face it, anything that Snooki seems to do keeps us interested and entertained. Snooki plus baby is most likely to add up to ratings gold.
If you were worried about the mommy-to-be not being able to handle motherhood, you can now sleep easy. Snooki assures us that her life of partying has prepared her for her new role as a mother. "Pregnancy sickness is just like you're hung over," the 24-year-old told MTV.
She's also happy about having the little surprise come so early in life saying, "It's better because now I can be a MILF."
 Can you define fashion faux pas?
Anderson Cooper is appalled with Snooki.
Snooki wants you to know she's had no 'nooky' in the last 3 months.
Snooki On the Defensive as She Responds to Jeff Miranda
Welcome to the new reality trash show- 'Garbage Moguls.'
Advice for the Tanned, Bemuscled and Bouffanted.