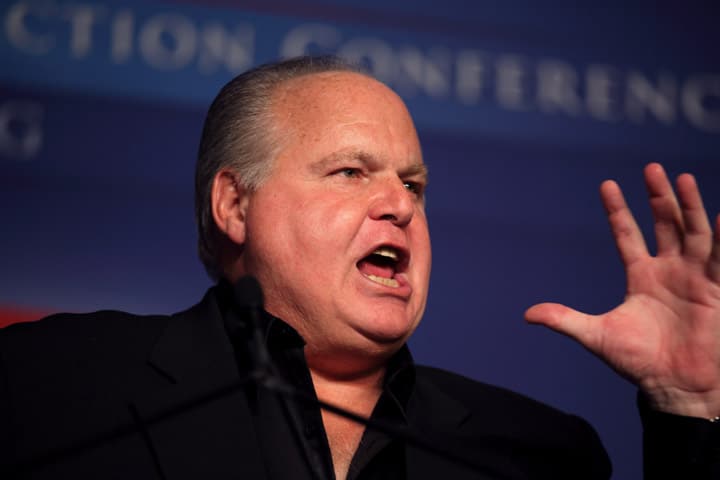 "If we're going to pay for your contraceptives and thus pay for you to have sex, we want something for it. We want you to post the videos online so we can all watch."
It seems Rush Limbaugh is at it again, inflaming the seeds of discontent and imparting what ostensibly amounts to sexist, misogynistic  and vitriolic statements towards women with his latest tongue lashing relating to whether the public and or religious institutions should cover the cost of female contraceptives.
In a move that may well have the 61 year old conservative talk show host regretting he ever took on one Catholic Georgetown University student, 22 year old Sandra Fluke  the talk show host has found himself embroiled in a heated debate as to whether he has alienated and negated women with his stance towards the state paying for female contraceptives. For her part Ms Fluke has adopted the position that the state should help absorb the cost of contraceptives for health reasons.
Given the public fallout as a result of Mr Limbaugh calling Ms Fluke and others like her a slut and a prostitute on his show advertisers one after the other have bowed down to twitter pressure and signaled they will no longer be a sponsor on his talk show, throwing into question how long the controversial talk show host can continue without being forced to capitulate.
Offered the Mr Limbaugh: 'She's having so much sex she can't afford the contraception. She wants you and me and the taxpayers to pay her to have sex. If we're going to pay for your contraceptives and thus pay for you to have sex, we want something for it. We want you to post the videos online so we can all watch.'
Denied to testify at a hearing last month on whether President Barrack Obama's proposed insurance reform should require insurers to pay for the cost of contraceptives the 3rd year law student  offered that Mr Limbaugh's reaction was historically consistent with what women have had to be subjected to. She also went on to add that she found Mr Limbaugh's comments had 'upset her very deeply as well as outraged her.'
Who also hasn't been too pleased includes a volley of advertisers who are now re assessing their decision to be affiliated with the outspoken conservative commentator: Sleep Train and Sleep Number, with a third advertiser, ProFlowers now seriously considering how or when to also disassociate themselves with Mr Limbaugh.
'We don't condone negative comments directed toward any group,' a Sleep Train spokesman tweeted. 'Thanks to all of you for your concern and input.'
Reiterated a Sleep Number spokesman: 'Recent comments by Rush Limbaugh do not align with our values. So we made decision to immediately suspend all advertising on that program.'
Meanwhile advertiser ProFlowers said it will 're-evaluate' its marketing plan and dating site eHarmony insisted it will look into 'the matter of "network buys"'.
In part it is thought the advertiser's positions were adopted by a backlash which saw wide social media condemnation of Mr Limbaugh's coercive remarks that have had the effect of many corporate sponsors backing away at the slightest appearance that they are associating with what many have termed hostile and misogynistic remarks towards women.
Rather than choose to back down and apologize for his misogynistic points of views the talk show host instead today went on his radio show and in essence doubled down by arguing the following: "She was not allowed to testify because it was not about women at Georgetown who have so much sex they can't afford birth control."
He said that her speech at a press conference served to show that "she's having so much sex she can't pay for it, and we should."
With respect to his comment about a sex tape be made public the cavalier Limbaugh offered he was merely "illustrating absurdity by being absurd," imploring his critics to "lighten up."
Adding to the furore it was also revealed this week that Mr Limbaugh is now America's least liked news personality, which forces the question why is the network that hires Rush still standing by this man, unless of course they too tacitly share the same view as Mr Limbaugh that women are sluts and prostitutes?
Whatever happened to assuaging one's point of view without stooping to degenerative stances with besides the point discussions on a woman's right to have sex or not. It seems what really has piqued Mr Limbaugh isn't so much the cost of absorbing female contraceptives but the fact that he can't stand the idea that deep down women are really promiscuous sluts who are now scheming to take advantage of Rush's hard earned dollars.