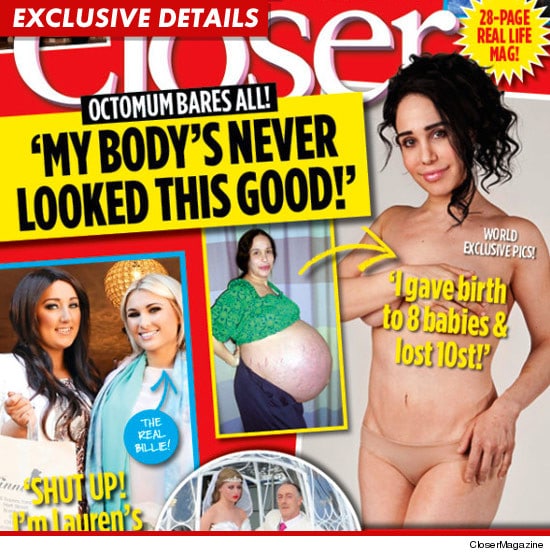 Nadya Suleman, famously known as the Octomom, has chosen to bear it all in the latest issue of U.K. magazine, Closer.
The mother-of-14 poses for the cameras wearing only nude panties, covering her top with her hands.
Octomom then goes on and on explaining that she has been celibate for 13 years and tries hard at "disguising her beauty" to rid herself of male attention.
OK, because posing practically nude isn't going to get you any attention…but I guess since you have all those hungry mouths to feed taking a few pics with your clothes off is different than flirting with the guy at the grocery store. At least Closer can help pay the bills!
Suleman went completely bare; no high heels, no airbrush, no blow out – not even a spray tan! Her feet even look a different color than the rest of her body. I guess she wants to show the world how well she has recovered from her pregnancy without being altered in any way.
She then says:
"I get way too much male attention, but I won't date until the octuplets are 18 – I live for them now," and "I know a lot of women like male attention, but I'll go out with no make-up on and wear tracksuits, a wig and even a fake pregnancy stomach to put them off." 
Hmm, pregnancy stomach is definitely an interesting tactic, and one that I have discounted up until now. Maybe I should give it a whirl the next time the guys at the club just WON'T leave me alone. As Octomom knows, being beautiful means constantly warding off male predators.
But don't worry guys, she hasn't thrown you all to the curb just yet:
"I wouldn't rule out a relationship in the future. But now, when men look at me, I look away and they know not to approach me. I know I'm beautiful – I don't need a man to tell me that."
Don't you wish you were a well paid panty less media whore too? I know I do….