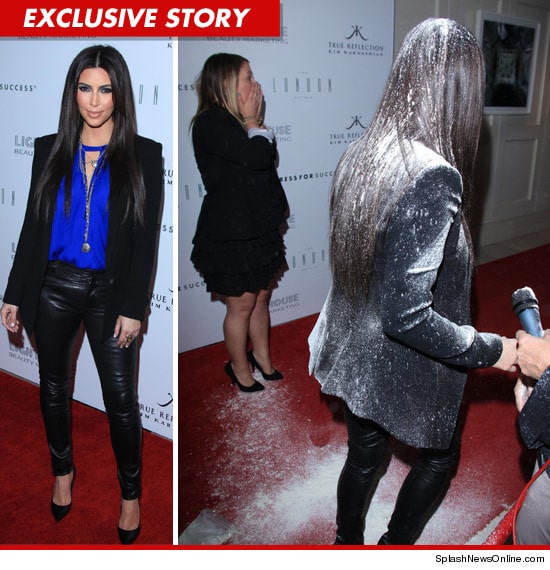 Kim Kardashian thinks it wise that whoever flour bombed her is held accountable for her dastardly deed plus she she doesn't like it when people think she set it up for free pr (isn't it always free?) when she can now prove once and for all she was an innocent victim.
She played it cool for the cameras but now our collective preferred hawt bixch KK has just let it be knownthat people who hate her will not be allowed to have their day in the sun.
As it was widely reported yesterday our professional fame whore Kim Kardashian got a little surprise on the red carpet at the launch of her new perfume True Abomination Reflection.
While posing for pictures an unknown woman threw white cooking flour all over the reality star, forcing her to rush off to hair and makeup to dust off and touch-up.
At the time KK came back out and swore one day she would find revenge made some jokes about the whole situation while her mother Kris Jenner unable to resist the attention to get her mug out there for the 40 000th time this week gushed the following:
"I am so proud of my daughter for handling this situation so professionally and with such poise! Kim wasn't phased by the attack and simply walked away from the red carpet, brushed herself off and headed right back out!!" 
Hawt bixch! At the time KK declined to press charges (ahh…) and her assailant who was taken into custody as a consequence was later released.
But now that has all changed as the phenomenon known as 'calculating media whore' took a second whiff of the flour puff balls sliding off her dimpled locks:
"I said earlier no I wasn't [going to file a complaint]. I am just going to think about it, because I don't want someone to think they can really get away with that. So we are going to handle that."
Heavens forbid KK we should never let the world think they can get away with this type of shit, never mind the clever tinker tricks your hawt ass likes to get awaywith the minute it slides out of its Gucci satin sheets in the morning.
I'm with you KK. A full blown media escapade lawsuit sounds great to us. Or even better a back street brawl with premium flour. Revenge is always sweet.
Reflects further God's sunshine to eternally wounded souls:
"Now that I think about it and had some time to digest it," she added, "I think, 'What if that was some other substance? What if that person had a dangerous weapon?' It's scary. And what's even scarier is this woman acted as if she was a part of the press. She just came out of nowhere! And so we are definitely changing things up a little bit, amping up security, taking some measures, and…I'm gonna definitely deal with it because it is not acceptable."
Good for you KK, sock them where it hurts, its about time we had a real life Hollywood freedom fighter who fought against the atrocities of the world. Who knows maybe your hawt ass will be the new face of some name brand flour.
"Kim Kardashian premium flour du crux, the shit that never leaves you choking….."