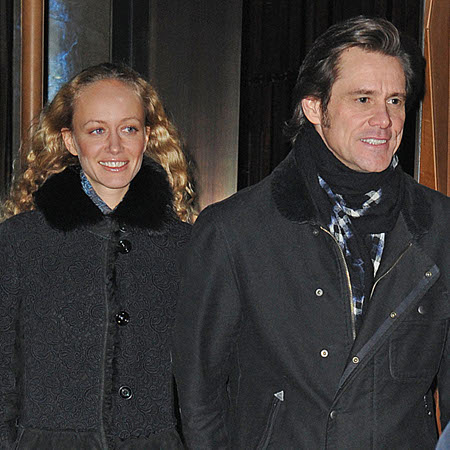 If you can't succeed once, twice, try one more time…
Kids the good news out on the street is that funny man Jim Carrey is set to marry (will she say yes???) his new love interest Russian gold digger student Anastasia Vitkina. So says Star magazine who was tipped off by an insider.
Offers the insider via radaronline: The insider said that the twice-married star decided to seal the deal with the stunner when he turned 50 this past January. After splitting from Jenny McCarthy two years ago, Jim dated breathtaking America's Next Top Model beauty Anchal Joseph, but now he's finally ready to settle down again.
Anastasia is "really smart, but what he likes best about her is her sense of humor," the insider exclusively told Star. "She makes him laugh — Jenny would drive him to tears."
Makes him laugh as opposed to being driven to tears? Kids I think Jim might be onto something, but what do I know? I make everyone I ever meet cry, so then again my commiserations to Jenny. Blah!
And now this shit gets really wet and juicy.
Said Jim: 'It's not always easy being with me, in more ways than one,'" the insider said. "But he added, 'I promise to make it worth your while.'"
Oh geesh, golly Jim, you just gave me and the chipmunks a boner. Sweet froth oozing from the inside of my mouth….(sorry bixches, if you want rated PG, Perez Hilton is way over there….)
But according to another source who just came out with a story moments ago, the good word is that although the Hollywood bixch is smitten by his play thing, he certainly has no illusions of getting married again. Well at least not right away. Hmm, did Jim get cold feet between yesterday's rumor and today's reversal?
Says rumorfix: RumorFix has a source close to Jim, who tells us, "It's not true." Our source says they are dating, but the twice-divorced movie star is not looking to get married again — at least anytime soon.
Kids, I have to admit I'd kind of like to see Jim find himself a good honest Russian gold digger girl that will tend to all his needs as long as I guess he's nice and loaded. Then again you know what they say, not every Russian woman is a hooker. Just most of them.
I know, I got out of the wrong side of bed today. Actually to be honest I still haven't gone to bed, but that's another article…blah!
Never mind, I'm sure we'll all find out the answers when Star magazine comes out with their hardcopy scoop tomorrow.
Don't you wish you were rich and fabulous that way you could wake up and find out what new and wonderful rumors people are writing about you today?