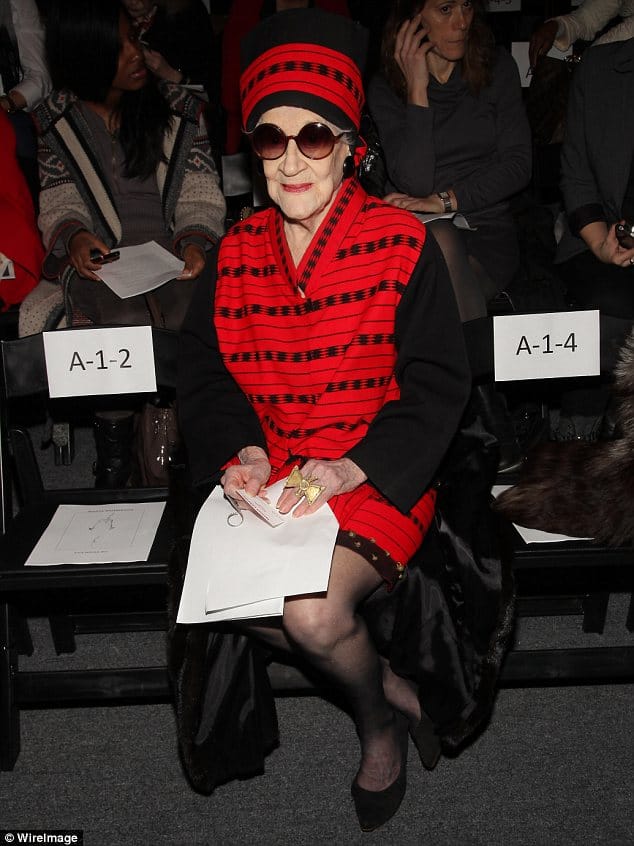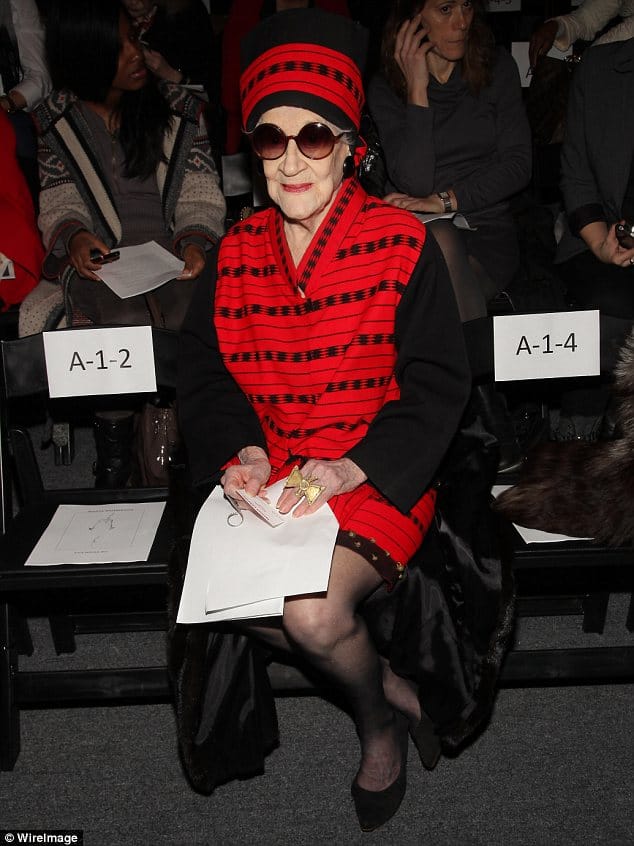 It may turn out to be the fitting death that someone of Zelda Kaplan's stature could only have hope for: to have suddenly feinted and later die whilst sitting front row at a high level couture maker's show. But then again Zelda Kaplan at 95 was hardly anyone pedestrian.
It all happened just as the matriarch was taking her usual place front row and the paparazzi had finished hungrily taking her picture and designer Joanna Mastroianni's models started strutting down the plank when suddenly Zelda gave in. Gave in to what no one can be sure, but perhaps old age. Then again it was reported that Zelda Kaplan had never seen a doctor in her entire life. Well maybe except to pick up shots for malaria for her constant travels to Africa where she championed indigenous female rights and took in the diverse topography and customs of the continent.
As she suddenly slumped forward security guards carried her off across the runway whilst the show was still in progress and attempted to perform CPR on her before taking her to Rosevelt Hospital. But it was all too late.
Recalls Keri Ingvarsson of Kings Collective who had recently hosted Zelda's 95th birthday at the Rose bar (Zelda at the time had expressed to this chap how much she was looking to receiving us all once again when she would turn 100):
"We loved her all so much. We considered her family."
Zelda Kaplan as she once described to this chap during a sit down tea that we once had directly downstairs from her apartment at a diner that she had been going to these last 25 years off Columbus circle was always beguiled by the constant attention she received from the journals, socialites and the club kids. Especially the club kids. Offered Zelda:
'They always want me to pose with them, and I always say yes.'
Who she also always posed for was stalwart socialite and society photographer Patrick McMullan who had this to say:
'Zelda Kaplan is a true original and a cultural icon, particularly to seniors as persons who are vivacious unpredictable and great fun to be around.
I will truly miss her. But look forward to seeing her again in the great night-club she will be hosting called after-life.'
Who will also miss her is original club kid and designer du jour Richie Rich, who reflected:
'Passing away in the front row was how it was meant to be. Zelda loves fashion, so she died for fashion. She would have wanted to go out in style. Zelda always said, "Live, live, live and have fun" … I hope the angels are holding her right now.'
Who will also miss her is this author himself who can recall quite vividly whilst watching Zelda Kaplan slowly sip on her tea with floating lemon wedge dwell on why she commanded so much adulation:
"I really don't know why. I'm no different than anyone else. I just choose to live my life fully. Why should I lock myself away when there is so much to see and so many interesting people to meet and anyway you know I used to be a dancer in my younger days so maybe the joy of music has something to do with it."
What advice would you offer anyone after 95 years:
"To live like today could be your last. You never know when it will be. I am so lucky and blessed if you must know. I have seen and felt so many things and all the people I have met I will never forget them."
And just like that Ms Zelda Kaplan put down her tea and looked out the window at the passing traffic as I sat there transfixed by her African inspired motif dress. God bless you Zelda, I will miss you from the bottom of my heart.
Society comes along to wish Zelda a happy 95th!