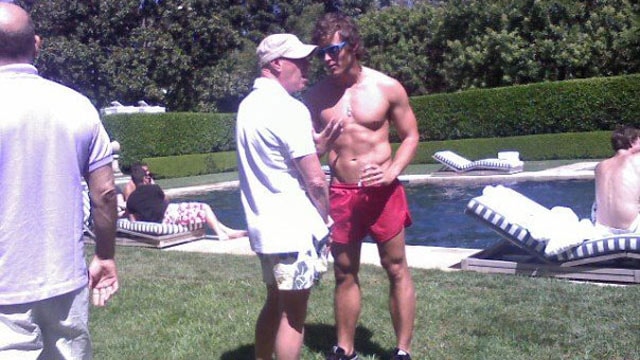 Like you kids I'm silently wondering to myself who will replace the hawt bixch that was David Geffen's play thing now that the two are no longer an item, after David Geffen's pr rep let it be know that the all expenses paid 6 year honeymoon is no more as the 'relationship has now simply run its course.'
dailymail.co.uk: He has enjoyed a trip to the White House, a house in Malibu and jaunts with Hollywood stars.
But now after six years of a life he could only dream of, former California college student Jeremy Lingvall has finally split from his partner, billionaire media mogul David Geffen.
Oh well, surely Jeremy will be able to find other father figures to keep him in the good life? Or maybe he just might lie low or could it be that Jeremy has already moved on with a secret hawt bixch (for the record pr reps have been broadcasting that no one else is involved…hmm). And what about David, how are the tears on his end holding up? Or maybe David is secretly happy to be relieved of Jeremy who some were privately saying was an embarrassment for David to continue having around. An embarrassment!? Did anyone (besides David) notice Jeremy's toned abs?
The decision to part ways brings down the curtain on one of the most talked about relationships in recent times, not least because of the 41-year age difference.
When they first started dating, Lingvall was met with a hostile reception among some gay commentators and blogs with claims that he was using Geffen as a 'sugar daddy'.
Sugar daddy? Could that possibly be true? Who would of thought such things still exist in such stellar circles. And if David Geffen is one of the richest men in the world with a fortune of $5.5 billion who exactly was the hawt bixch called Jeremy that David had begun cavorting to all those wonderful state banquet dinners that you and I never get invited to?
Lingvall, 28, is a surfer and graduate of the University of California Santa Barbara, although on a social networking website he described it as 'The University of Casual Sex and Booze'.
Casual sex and booze. Hmm, who would of thought such things appealed to David Geffen? Not me, how about you kids?
And then there were the social faux pas that hardly went unnoticed:
When Geffen went to the White House in 2009 to meet President Obama at his first state dinner, which was in honour of the Indian prime minister, Lingvall went with him.
In a sign some took at shameless self-promotion, Lingvall posted a photo of the occasion on his Facebook page taken at the moment he met the President in the White House garden.
Oh well isn't that what Facebook is about in the first place? The proliferation of shameless information for the courtesy of jealous onlookers?
Eyebrows were also raised over other photos posted by Lingvall including a snaps from a trip he and Geffen took to China, and a shot of him wearing no top which showed off his muscly torso.
Muscly torso? Hmm that seems a bit below the belt (pun intended). Never mind public knowledge has it that Jeremy is an 'actor' of sorts who likes to dj and hang out at glam social settings, which is a backhand way of saying that this hawt bixch will be swept into some new man's arms faster than David Geffen has woken up from his nap after a 5 course meal at one of his favorite restaurant outings. Surely David might now want to take a few extra second to observe the handsome out of work actors that will be serving him his future steak tartare snacks.
If only we could all have doting sugar daddies that held our hand as we resurrected up and coming acting careers or whatever it is we like to post on facebook we do when we finally get out of bed in the afternoons mornings.