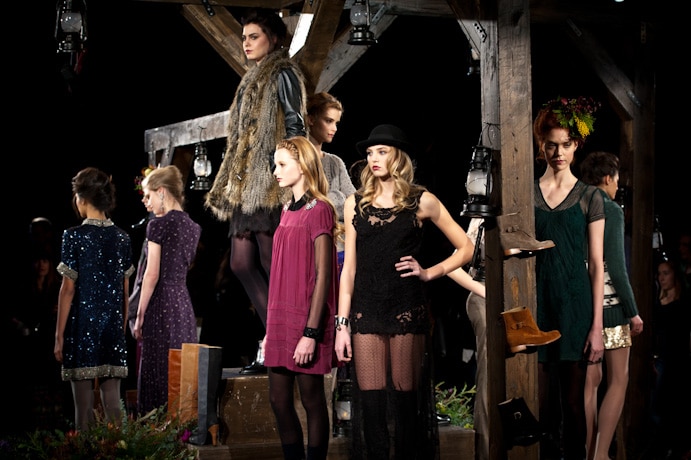 For all of us who assume the presentations simply don't hold a candle to the usual runway format – we were in for a great surprise as Candela's Gabriela Perezutti rocked the stage – if not the runway – at the Box at the Lincoln Center's venue with a thoughtfully prepared presentation.
With great attention to detail, Candela proved once again that stillness is the strongest motion. Twelve models frozen in time conveyed exactly what she told us she was going for: the timeless pieces in which the past meets the present. The Fall/Winter 2012 Collection, inspired by the Gold Rush era in California – the time her great-grandfather started a ranch in Uruguay – is infused with that eternal yearning of the human heart that just never goes out of fashion.
Standing on a construction of wooden beams hung with lanterns and surrounded with wild meadow flowers, the nymph-like models donned twelve ready-to-wear yet unique designer looks, featuring navy wrap and silk slip dresses paired with chunky knits and vests, velvet loafers and lace-up ankle boots. The clothes and the setting – including nostalgic country sounds and champagne in metal mugs offered to the visitors at the door (a total winner!) – added up to the general rustic, dreamy feel. All of us participating in the designer's vision of some good old frontier charm transplanted to an urban enclave of one's choice were taken by its truly timeless country-meets-trendy appeal. Designed as a variation of tastes for women from their early 20s to the late 30s, it shall certainly speak to all the eternal dreamers out there looking for their own pots of gold at the end of the urban rainbow.
(go to next page for more pictures).