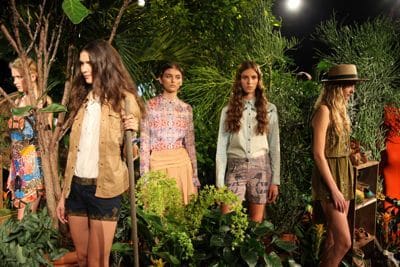 The Caribbean-inspired notes echo from the room. The guests, an eclectic mix of fashionistas adorned in dark colors and oversized vintage jewelry, nod their heads to the enticing drum beat, anxiously awaiting the guarded doors to open for the Candela Spring/Summer 2012 Showcase.
Suddenly, the doors swing apart and we are no longer in the tents at the New York City Mercedes-Benz Fashion Week, but are in a hot, jungle-clad world. Models line the stage, glaring down with fierce eyes, reminiscent of lionesses in heat ready to pounce. Beads of sweat gorgeously glisten their collarbones, necks and cheekbones, a perfect fit to the ethereal setting of the jungle décor.
The line is light, beautifully embroidered and colorful. The ever-so-sensually sheer mesh, silks and lace exude femininity. Canvas military jackets, leather sandals and stark, strong, bold accessories add structure to the line and balance out the feminine feel of the fabrics. This unique mix adds depth to the collection, creating a strong statement on an inevitable human condition: the struggle between structure and self-expression.  The freedom expressed in the flowing fabrics and bright colors add a carefree element to the line, reminding us that it is vital to stay joyous even through times of hardship.
Three pieces caught my eye: a casual daytime look, a daytime dress and an evening gown. The first daytime look consists of a washed denim chambray shirt with hand-beaded trim, elephant paisley print silk satin shorts, classic distressed tan calf leather pumps with a fuschia fish skin heel. The shorts are the focal point of the outfit, giving the look a fun, hipster-meets-hippie chic feel while the chambray shirt and leather pumps add a classic element to the outfit, making it the perfect look to wear from Soho to the UES.
Article continues next page:
Gabriela Perezutti