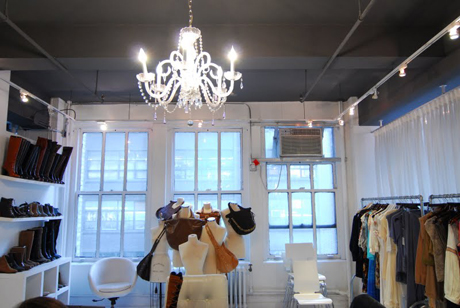 Photography by James Palmar.
Gabriela Perezzuti and Natalia Kuks Jacobs are the founders of Candela, a collection of clothing inspired by South American and Argentinean traditions, with a leather-studded, New York kick. I had the chance to sit down with Gabriela to discuss Candela's unique aesthetic and the strong strides the small label has made thus far in the fashion industry. Though many designers have begun to show signs of financial strife beneath their well-laid seams, Candela's continued growth gives testament to the old adage; slow and steady, my dears, always wins the race.
SCV: How did Candela begin?
GP:  I met Natalia in 1997, in Argentina. Her family owned a 15 design stores there, giving her a strong understanding of fashion retail at a young age. I moved to New York first, and she soon followed. Candela launched soon afterwards, in 2004.
You and Natalia have been working for 5 years; do you both have an equal say in final design decisions, or is there one woman more vocal than the other?
We both have a similar personality and style. We also have a very democratic system. If there is something Natalia or I feels very strongly about, we usually go with that passion—we definitely work with, rather than against, our intuition.
What stimulated your interest in fashion?
I have always been interested in fashion, sketching shoes and dresses when I was a little girl growing up in South America. I loved Cinderella, especially the scene when the birds construct her ball gown from disparate household fabrics. I cut up my grandmother's silk lace nightgowns to try and achieve the same effect; she wasn't too thrilled.
The Gaucho style is very prevalent in your designs; did life in Argentina play an integral role to the construction of your current design concept?
Both my mother and father came from ranching families, so the style is more in my blood than anything else. My mother was a huge influence for me, the way she dressed in the 60's and 70's in Argentina. Back then, women would buy patterns and fabric directly from Europe; all of the clothes were tailor made for the individual. It wasn't until I was a model, however, traveling the world for fashion, that I became more professionally involved.
Was it a natural transition, from model to designer?
I always had an inclination for self-expression through clothing. As a model, I never pursued design directly, but no one was surprised when I made the change; no on
e but my self, that is. I also hated high heels. I was glad to be able to wear flats again after giving up modeling.
There is definitely an androgynous component to your styles. The Candela woman appears to be at once dressed for a trendy New York cocktail party and well-equipped for life on the Argentinean estancia. The shoes are especially interesting, playing with lace and leather to achieve a functional yet haute look.
About 65% of our collection is shoes, but the soft and hard theme is a major factor in everything that Natalia and I design. We like to pair silk chiffons with chunky sweaters, adding a bit of masculinity to the romantic elements. When it comes to shoes, you can't be dressed to pretty in New York; the city woman is always walking and, if her shoes aren't made to cater to this lifestyle, the soles will be eaten up in no time.