Kids, here's a cute T shirt idea courtesy of your pal Ke$ha. 
After our collective wench made a mess of herself (are you surprised?) at the Versace H&M booze them up and look good for the cameras with all my A list pals she ended getting a healthy amount of flack from the press (who could imagine?-not me…) who weren't too thrilled with her Halloween costume dress sense.
That's when Ke$ha hit up with the clever marketing idea of putting on one of her pajama tops (is there any doubt she doesn't wear this every evening whilst flossing her teeth before bed?), photographing the bixch and then tweeting it adfinitum to the universe.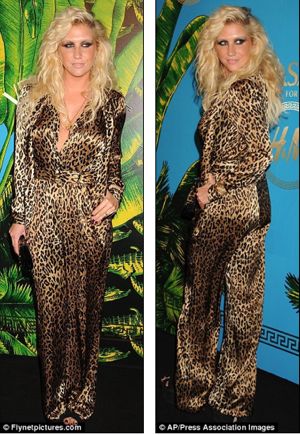 The image of course came with the following humble message:
'Animalss! be yourself. Alwayssss. HATERS-checkk out my sick new shirtt!!!(sic)
Recently she had this to say to MTV: 'I just want to capture some of the true essence of what rock and roll is, and that's just irreverence and sexiness and fun and not giving a f***'.
Of course if Ke$ha wanted to hire me as her speech writer that last sentence would go more like something like this:
'I just want to hijack the essence of being a totally out of control media whore, and that's just irreverence, sexiness and a whole lot of fake publicity ****
No worries Ke$ha, I still hate fancy you…:)
KE$HA MANAGES TO MAKE IT TO THE BEACH WITH A BOTTLE OF JIM BEAM STUCK BETWEEN HER BIKINI STRINGS.
KE$HA'S FACE WILL SOON BE SMILING BACK AT YOU NEXT TIME YOU TAKE OUT A CONDOM.
KE$HA WOULD LIKE TO TELL YOU SHE HAS THE PERFECT ANTIDOTE TO MORNING BREATH.