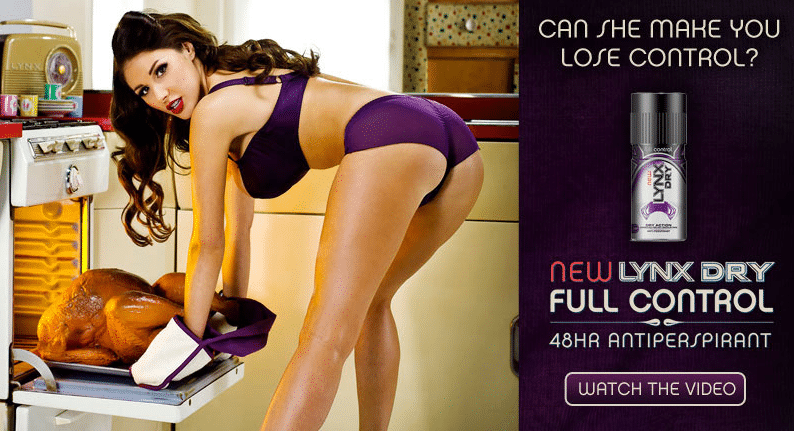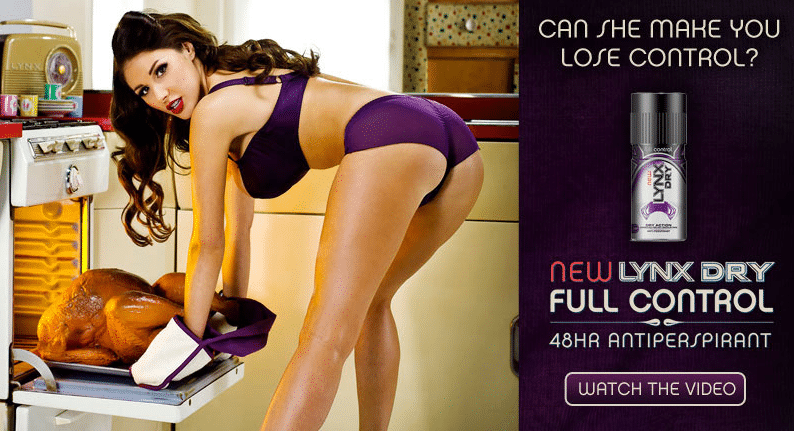 Here we go again. Britain's Advertising Standard Authority have had their hands busy lately with advertisements that they have considered too controversial, from Marc Jacob's 'Lolita,' perfume campaign, Miu Miu's ad featuring a woman posing on railroad tracks to an emaciated model from the drop dead campaign. This time what has caught their attention (strangely all the above ads are still running in the US, but why?) are the ads for the deodorant maker Lynx, which they have deemed 'too sexy.'  Too sexy? Can there really be such a thing?
huffpo: The controversial Lynx deodorant ads, which star UK pinup girl Lucy Pinder, started appearing on major Internet sites in the UK recently. Featuring a bikini-clad Pinder, the copy doles out innuendos like, "What will she do to make you lose control?", "Play with Lucy" and "Put premature perspiration to the test."
The ASA says they received 10 complaints about the ads' salacious messages.
A separate poster ad that doesn't star Pinder received an additional 113 complaints, reports the Guardian. In that ad, a blonde woman stands on a beach wearing bikini bottoms while clutching an undone bikini top against her breasts, with the slogan, "The cleaner you are the dirtier you get."
Hmm, what are we to make of these ads and why are consumer manufacturers insisting on pushing the envelope? Do we really perceive the publicized images of women as being sexual? What about if the same ad ran with a shirtless man with the above slogan- 'the cleaner you are the dirtier you get.' Would that have offended us? Probably not. Or does it have more to do with the fact that at this stage of the game certain images or suggestions are so loaded courtesy of an inundated culture that has continuously plastered half naked images of women in pretty much every repose on public billboards the mere assertion of a sexual cliche (although intimated in many ads but never actually stated unlike the lynx ads) has pushed the bounds of proprietary and has served to embarrass us as to how we actually in Western society perceive women?
Says the guardian:
The majority of the complaints to the ASA were that the ad campaign was offensive because it was sexually suggestive, indecent, provocative, glamorised casual sex, and objectified and demeaned women.
But haven't we always objectified, glamorized women, casual sex? Is this something new, or is just this time the explicit use of words beyond images is a bit too much to bear for some tastes? Furthermore why do advertisers insist on presenting women in such a vein? D0 they honestly believe that this is how women perceive themselves, how men perceive women or ultimately in the notion that anything that gets us or leads to more sex if it's good for the goose is good for the gander?
Unilever, the owner of Lynx has come out to say the following (but really what were you expecting?):
dailymail.co.uk: [Unilever] said the products are designed for men aged 17-27 and 'had been had been popular over the years for its playful, sexy, tongue-in-cheek take on the 'mating game' narrative.
Unilever said consumers had 'come to expect, and were comfortable with, the narrative, tone and content seen in their ads.'
It said the video ads 'were designed to be playful, sexy and humorous but not to cause offence.'
Offensive or is just that some folk are way too sensitive?