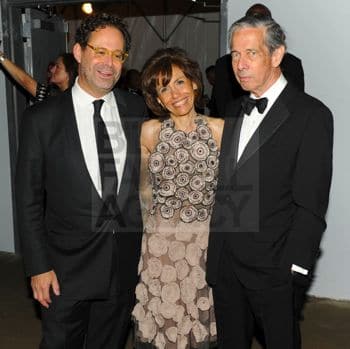 Last week the Whitney Museum of American Art hosted its annual Gala & Studio Party at Hudson River Park's Pier 57 sponsored by The Ritz-Carlton Rewards by J.P. Morgan/CHASE, AOL, and Marchesa. This year's Gala honored New Yorker art writer Calvin Tomkins for his lifetime achievements.
As could be 'imagined' it was a tasteful affair with the usual dilettantes distinguished guests of society and the arts that always bring a wicked smile to our faces. That said one can only hope anticipated funds were raised so as to continue facilitating the Whitney which has a legacy for some of the most important body of work within America, as it seeks to move down in its soon to be completed 195 000 sq foot space as designed by Renzo Piano.
The following guests were in attendance:
Whitney Director Adam D. Weinberg and Honorary co-chairs AOL CEO & Chairman Tim Armstrong, Georgina Chapman, Keren Craig, and Harvey Weinstein honored legendary art writer for The New Yorker Calvin Tomkins for his lifetime achievements. The Gala also featured a video installation by artist Marilyn Minter sponsored by AOL. Guests including Bar Rafaeli, Christo, Cecilia Alemani, Muffie Potter Aston, Gabrielle & Louis Moore Bacon, Jack Bankowsky, Jennifer Bartlett, Anne H. Bass, Rosamind Bernier, Roland W. Betts, Lois Betts, J. Darius Bikoff, Jill Bikoff, Neil G. Bluhm, Francesco Bonami, Mary Boone,  Geoffrey Bradfield, Stacey Bronfman, Matthew Bronfman, Gavin Brown, Melva Bucksbaum, Hugh Bush, Ginevra Caltagirone, Joanne Leonhardt Cassullo, Claudia Cisneros, Paula Cooper, Henry Cornell, Vanessa Cornell, Douglas Cramer, Jeffrey Deitch, Richard M. DeMartini, Donna DeSalvo, Pamella & Daniel DeVos, Clarissa Dalrymple, Elizabeth A. Dee, Fairfax Dorn, Jonathan Farkas, Yvonne Force Villareal, Carter E. Foster, Amanda & Glenn Fuhrman, Dodie Kazanjian, Richard Kirschenbaum, Justine Koons, Ramiro Garza, Suzanne Geiss, Massimiliano Gioni, Andrea & Marc Glimcher, Mildred & Arnold Glimcher, Thelma Golden, James A. Gordon, Jeanne Greenberg Rohatyn, Audrey Gruss, Agnus Gund, Susan & John Hess, A.M. Homes, Bryan Hunt, Chrissie Iles, Allison M. Kanders, George S. Kaufman, Warren B. Kanders, Emily Landau, Raymond Learsy, Thomas Lee, Julian Lethbridge, Dorothy Lichtenstein, Henry Louis Gates, Richard Marshall, Patty & John McEnroe, Ryan McNamara, Richard Meier, Nicolas Mirzayantz, David Mugrabi, Brooke Garber Neidich & Daniel Neidich, Peter Norton, Nicolai Ouroussoff, Anne Pasternak, Christine Paul, John Paulson, Philippe Petit, Amy & John Phelan, Jennifer J. Raab, David Remnick, Denise Rich, Donna & Benjamin Rosen, Wilbur L. Ross, Scott Rothkopf, Sandy Rower, Jay Sanders, Vito Schnabel, Annabelle Selldorf, Izak Senbahar, Hunt Slonem, William Sofield, Andy Spade, Anne-Cecilie Speyer, Robert Speyer, Dana & Patrick Stubgen, Elizabeth Sussman, Julie Taubman, Ann Tenenbaum, Fern K. Tessler, Lenard Tessler, Ann Tisch, Andrew Tisch, Laurie M. Tisch, Thomas E. Tuft, Angela K. Westwater, Jim Wiatt, Young Woo, Elyn Zimmerman along with artists Carl Andre, Hope Atherton, Kristin Baker, Cecily Brown, Maurizio Cattelan, Paul Chan, Chuck Close, John Currin & Rachel Feinstein, Francesco Clemente, Urs Fischer, Wade Guyton, Jacqueline Humphries, Jeff Koons, Sherrie Levine, Glenn Ligon, Adam McEwen, Tony Oursler, Tom Sachs, Julian Schnabel, Dana Schutz, Lorna Simpson, Mike Starn, Donald Sultan, Sarah Sze, Philip Taafe, Rikrit Tiravanija, Leo Villareal, Kelley Walker, Terry Winters enjoyed a special performance by Fitz & The Tantrums.
Dinner guests joined Studio Party Chairs, Valerie Boster, Georgina Chapman, Martin Dawson, Amanda Hearst, Nate Lowman, Michelle Monaghan, and Dalia Oberlander, and danced to music by Questlove and enjoyed specialty cocktails by Chandon with guests including Yigal Azrouel, Vikram Chatwal, China Chow, Julie Henderson, Ally Hilfiger, John Legend, Heide Lindgren, Kalup Linzy, Lorenzo Martone, Tinsley Mortimer, Coco Rocha, Charlotte Ronson, Olivia Sandelman, Lola Schnabel and Chrissy Teigen among many others.