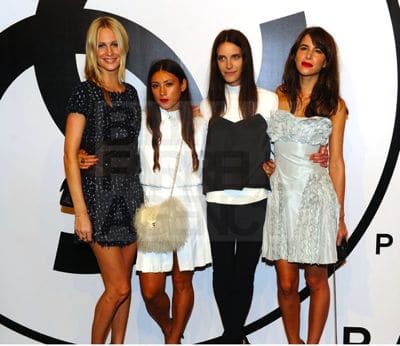 One recent evening saw this scoundrel galivanting along to RxArt's annual fete, as founded by Diane Brown, and chaired by Jen Brill,  and Poppy Delevingne, Leigh Lezark, Caroline Sieber, Vanessa Traina to celebrate the organization's 11th anniversary and unveiling of  the third edition of the coloring book Between The Lines featuring full cover art by artist Rob Pruitt sponsored by CHANEL Beauté.
At one stage in between the odd cocktail and the copious scribbling of guests on the wall with Chanel crayola (guests were being encouraged to flood their imagination on the wall as signature pieces were being silently auctioned off) a bystander happened to inquire as to what I was drawing on the wall, to which I must have replied 'anything that takes my fancy, but that said promise you will bid well for it.'
Over 300 RxArt supporters including Jen Brill, Poppy Delevingne, Caroline Sieber, Vanessa Traina, China Chow, Chiara Clemente, Lauren Santo Domingo (all dressed by CHANEL), Sean Avery, Marco Brambilla, Olivia Chantecaille, Will Cotton, Rafael de Cardenas, Annabelle Dexter Jones, Brian Donnelly aka KAWS, Zani Guglemann, Michelle Harper, Lazaro Hernandez, Ally Hilfiger, Johan Lindeberg,  Lisa Ling, Kalup Linzy, Jose Parla, Terry Richardson, Cynthia Rowley, Max Snow, Harley Viera Newton, Aaron Young among many others danced the night away to DJ sets by Leo Fitzpatrick and Cassie Coane, while sipping cocktails and snacking on delicious hors d'ourves by Callahan Catering. The event showcased exclusive auctions featuring some of the most sought after names in contemporary art.