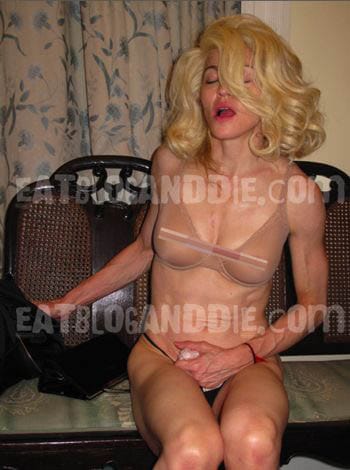 The chipmunks are now crying in their sleep. How a material girl destroyed my fantasies…
Kids cast a long mournful look on the princess called Madge. It's as you can see quite the sight. In fact so mortified were the little chipmunks, Fyoder and Mazeltov that hung out in the back alley that the minute they returned for their hourly sip of my moonshine their little tails started nervously fluttering away and of course you can see why. Right?
But at least one thing is for sure, Madge has kept very far away from the plastic surgery guy (well nearly…) Here's what eatbloganddie had to say about our collective hero as Steven Klein was getting Madge TV perfect for his soap opera photo shoot:
As frightening as these un-Photoshopped photos tend to be, it does reveal to those who swore Madonna had her body sliced, and diced, and put back together years ago, that she hasn't actually touched a thing.  There's no visible scars, except one minor one that you can see over her right breast.  No one would pay for those titties.  It's nice to see an older woman in the entertainment biz who didn't mess with her funbags, (even though she probably should).  People for years have been saying that she had them done.  These pix put those rumors to rest.  She definitely fucked with her face though.  All in all, it's the music that counts, and until she starts fucking with that, Madonna's face and body are going to be all that people talk about from now on.
One day when little children are required to salute and bow down as Madge sashays past their way me and the little chipmunks will be wondering if it was all worth it- the push ups, the 17 mile runs in her living room, the sauteed broccoli and the steamed onions rings- and from a vast boombox Madge will suddenly boom a conduit of our collective aspirations and that's when all the violent tears will flood the back alley.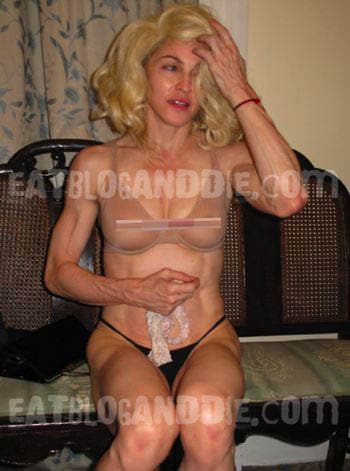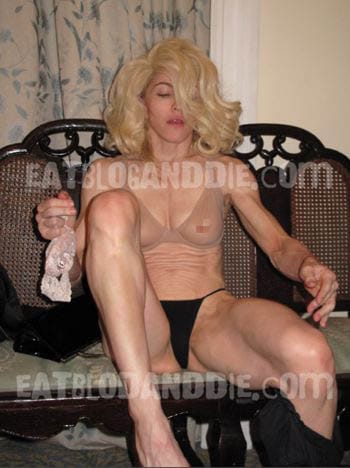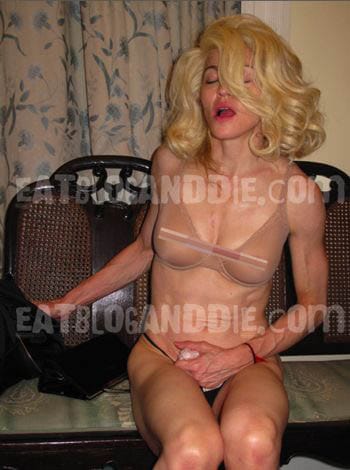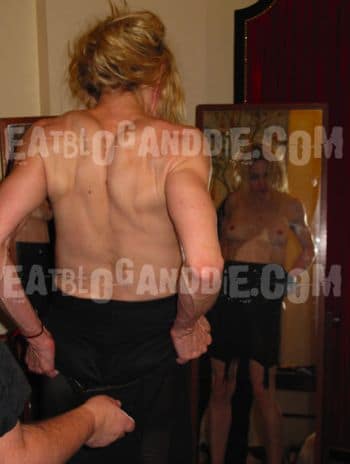 FASHION PHOTOGRAPHER STEVEN KLEIN SET TO EXHIBIT IN SAO PAULO'S, BRAZIL'S MUSEUM OF SCULPTURE AUGUST 10, 2011.
MADONNA OPENS PRICY MEGA-GYM IN MEXICO CITY.
MADGE WANTS TO INTRODUCE TO YOU HER NEW BOY TOY BRAHIM RACHIKI.
ICE PICK CARRYING 'STALKER' 'WON'T STOP TILL HE MEETS MADONNA'
AFTER DUMPING MADONNA, JESUS LUZ CELEBRATES BY PICKING UP HOT YOUNG GIRLS
MADONNA TELLS US WHY SHE DOESN'T DATE MEN HER AGE.
FANTASTIC MODEL OF THE WEEK- JESUS LUZ.
MADONNA SHOCKS US WITH HER SUPER SKINNY BODY AND BULGING MUSCLES.
JESUS LUZ: "JUSTIFY MY PAY PACKET."