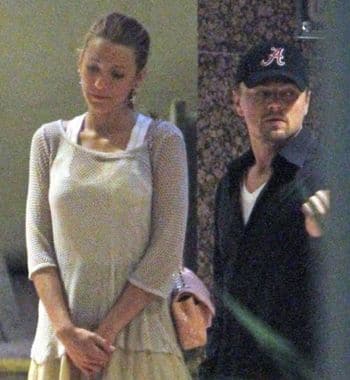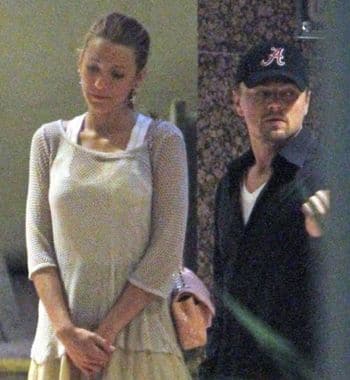 Kids, I've had to go looking for a gallon of the good moonshine that I normally reserve for things like the chipmunks Mazeltov's and Fyodor's birthdays and Thanksgiving parades but this afternoon I am of the opinion I will like you be commiserating my spent soul with the good stuff. That and a bucket of apple vinegar to douse away the bitter tears of Blakey and Leo snuffing their love thing to history.
Here today and just like that bixch called contract love over…
dailymail.co.uk: They hit the relationship ground running, enjoying a whirlwind romance laden with exotic and glamorous trips around the world.
But it appears that the romance between Blake Lively and Leonardo DiCaprio has already fizzled out.
Representatives for the Hollywood couple confirmed to Us Weekly magazine that the pair have called it quits after just five months of dating.
The two are now said to 'remain friends'.
Over just like that?!! But how Mazeltov!? And you Fyodor  what do you think of this disaster??
There even the chipmunks are speechless and dipping their paws in my moonshine. Alas the three of us will be blinded in tears tonight…
The news may come as a shock to Leo's loved ones, who were certain that Blake was 'the one' for the actor, who has in the past dated supermodels Bar Refaeli and Gisele Bundchen.
'[I have] never seen him like this with a girl.' one friend told Us Weekly.
Oh Leo! Leo! Why can't you just fall in love! Couldn't you see Blakey was into you? Lusting after you all over the Mediterranean, tipping us media folk just when she was about to go twitter naked, winking at us as she went from a B grade nobody to an A grade nobody. Wasn't it obvious to you Leo as it was to us? Oh damn you chipmunks, bring the moonshine back to the table at once!
Some even thought that the pair would even tie the knot.
'I bet they get engaged in six months,' another friend told Us Weekly.
Blake started dating the Shutter Island actor in May this year, and ever since the couple were seen enjoying dates all around the world.
They were spotted being intimate in Disneyland, Monte Carlo, Venice and Saint-Paul de Vence in France.
The pair also enjoyed time in Cannes, Monaco and Portofino – enjoying a whirlwind of story-book dates.
Oh dear Leo what doth have done with thy love? Surely there must be another B grade model/actress on the horizon who will finally embrace the wanton Lothario that you plead to be…alas.
It's time to gawk at naked pictures of Blake Lively.
SECOND SET OF NUDE BLAKE LIVELY PHOTOS TURN UP- WHO'S REALLY RESPONSIBLE?
SUPER MODEL BAR RAFAELI, EX GIRLFRIEND OF LEONARDO DI CAPRIO WANTS TO SHOW YOU HER NEW BIKINI PICS.