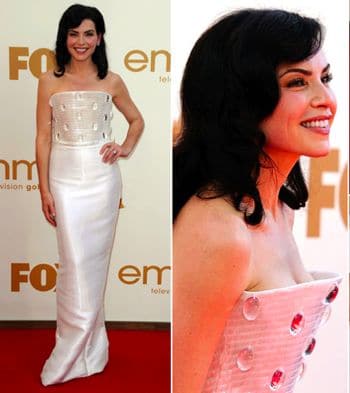 Kids to be frank I'm not even going to bother with a best and worst list for this year's Emmy awards- they were all pretty drab and then there were some of you actresses that were just plain atrocious. That said, understanding that like me you prefer the dish on those who can't seem to get it together it's time to look at our top 5 worst dressed Emmy attendees. From worse to absolutely atrocious. Let's see who wins our sweepstakes in the fashion stinks department?
Starting with number 5; Julianna Marguiles; a complete flop in Armani Prive.
Julianna at this moment has to be sure taken to hiding in a barn house after her audacious attempt at fashion last night. Everything about her effort was damn wrong. From the cut, the  perforated holes (really Armani, you know that Julianna don't know what to do with all them holes ) and then there was the awkward way the whole thing tapered at the bottom and dragged forcing us to watch Julianna slitter along like a 2 week old calf taking baby steps in virgin white . And to make it worse, bixch had the audacity to pretend and smile when she really just wanted to slit them wrists of hers.
Arriving at number 4: Dianna Agron in Roksanda Illincic ; what in mercy's name was this bixch thinking kids? It was like watching a bloated parachutist drop from the air and waddle onto a no man's land stage. From the cheap chintzy fabric and bag over the head feel to the gown I couldn't help but slam my tequila bottle against the chipmunks who were praying to the gods for fashion redemption themselves. The more I looked the more I had to look for a jack hammer to poke my eyeballs out, so now I can thank Dianna for going blind. Bixch!
Arriving at number 3: Olivia Munn broke my heart in Carolina Herrerra. Bixch what were you thinking? Apricot green? Did someone say Los Angeles or Fort Tampa, Florida? Helllllooooo!!? And what's with all that bow cow loop dangling from here to Mexico city, is that some sort of foreign fashion kids that we're suppose to understand? Well excuse me bixch! This is America and in America we never confuse what fashion is. Even if them French designers keep making that haute juicy mumbo jumbo stuff that only old women in all them crackheads in Jacksonville Boca Rotan wear.
And our runner up is? SPaz Paz de la Huerta. Just a complete disaster. Kids, of course we all know Paz was trying to hide a bottle of tequila under her wild hair bonnet and try to make out that she lives on South Miami bixch beach with all that tanning lotion she had rolled all over her head, but really who did she think she was fooling when she turned up looking like a $3 an hour ho? Please somebody buy her some makeup remover immediately and what is it with that dour smirk? Is life really always that bad when you are an alcoholic?
.
And this year's winner for fashion faux pas and nonsense goes to ?
God have mercy on your soul Gwyneth strike you down Paltrow. Kids, what was that hawt bixch thinking when she opted for that bare midrift thing. This isn't Milan you know? Paris and haute cooky things aside, what's with the fish scale and doesn't Gwyneth like know she's way too fat to be wearing that shit even if it's black. Ugh what a flop, really G, go back to the UK with that one hit pony boyfriend of yours and stop pretending your a fashion con artist icon or whatever you think you are. Blah!
Paz de la Huerta came disguised as a sober drunk at last night's Emmys.»