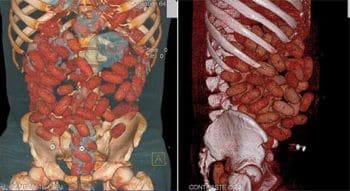 How may capsules of cocaine can you swallow?
It's time to hand one young Irish man an award for outstanding effort in trying to smuggle a crap load of coke, in their stomach of course.
According to authorities an as of yet unidentified 20 year old man (his initials have been released as P.B.B) was apprehended Monday at an airport in San Paulo, Brazil as he began to make his way to the departure gates. What of course tipped the authorities was the way the young man was nervously behaving (hmm, I wonder why?) prior to him getting on board his flight (who said you aren't watched like a hawk?) bound for Brussels, Belgium.
When authorities took him in for screening he apparently confessed to having imbibed a total of 12 72 capsules of cocaine, which equates to approximately one kilo of the good stuff, with a street value of $200K. Which isn't bad work if you can get it, but then again I'm willing to bet most of us don't want this type of work (especially if you factor in the chance that if one of the capsules erupt in your stomach you can kiss it all goodbye- one of our associates had the uncanny experience of watching one man who later turned out to be a coke mule experience a seizure mid flight, the result of a ruptured capsule- needless to say the man died before the plan landed).
It is reported that the man was taken to a local hospital where the capsules were removed. So much for some career choices…