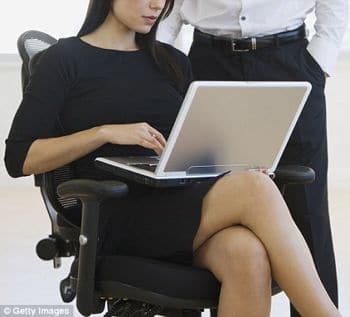 Imagine going to work dressed solely on the basis of what your immediate boss deemed appropriate? Sounds like an average day at work for most of us. But what about when it turns out your office manager goes so far as to deem which day you can wear your knickers or a bra for that matter?
On the basis of sexual discrimination, one employee, 44 year old Trudy Nycole Anderson of Utah has begun a lawsuit against her former employer, Lone Peak Controls and D&L Electric Control company, accusing him of having gone so far as to hand picked her wardrobe for every day of the week. Mind you the wardrobe selections leave a little to the imagination (and maybe that was the point?), with 'Tube -top Tuesday,' and 'No bra Thursday' as de rigeur the way salt or pepper is to a plate of steak frites.
And in case you're wondering what Miss Anderson got to wear on the other days, here it is: Mini-skirt Monday, Tube-top Tuesday, Wet T-shirt Wednesday, No bra Thursday and Bikini top Friday.
But rest assured like most episodes of worker exploitation it gets worser. How much worser?
dailymail.co.uk: According to the complaint he also allegedly asked her to show him her breasts and inquired about whether she shaved her pubic area.
Wright allegedly slapped Anderson on her buttocks at least twice and asked the woman for oral sex on several occasions, the complaint states
That ought to do wonders for worker morale. But something tells us Ms Anderson's employers weren't necessarily interested in her morale…
Upon complaining to her supervisors for leave of absence she was offered a mammograph. A free one of course. The suit also alleges that her supervisor Derek Wright was also building a shower on the premises, so the two could shower together. Something one can only wish was offered to more employees minus the strong hints of some rapid hand movement under the table if you catch Mr Wright's drift.
The suit also alleges that Mr Wright would watch pornography in the office. Which makes us wonder like Ms Anderson's Monday to Friday required dress schedule was there also a preferred Monday to Friday porn schedule?
For her woes, Ms Anderson was finally fired in February of 2011 after complaining to higher ups.
The moral of the lesson, sexual harassment is alive and rampant and if the occasional jackass supervisor can hold his employee captive to a fatuous fate bordering on extortion (her job or a blow job? ) then what are we as a society to make of such instances? Or better still what is it about attitudes towards women that allow some men to openly commodify women and make them into live wire sexual experiments and nervous wrecks at the time?
Perhaps a lengthy dress schedule of a prison uniform from Monday to Friday for many years to come might be the appropriate just rewards? But to be fair to Mr Wright, perhaps he too can wear a prison issued wet T shirt on the weekends…