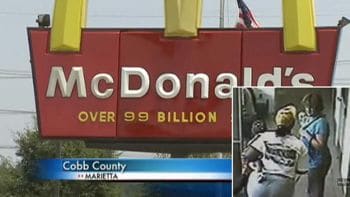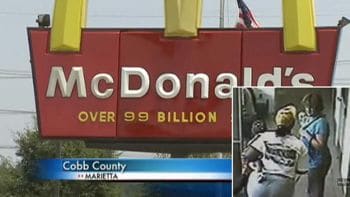 Would you like a Big Mac with that punch to the head madam?
You have to wonder whether bad behavior in fast food venues is endemic or just a reflection of society as a whole.
That said, it's time to head over to Marietta, Cobbs County, Georgia where one off duty McDonald's manager was so incensed with a mother who entered the store with her 2 autistic children and a service dog that it led to the mother being chased and assaulted in the parking lot.
The details:
ajc: According to the warrant, Jennifer Schwenker entered the Marietta McDonald's located at 1291 Bells Ferry Road with her children and service dog on July 12.
(Tiffany Denise) Allen, off-duty at the time, became irate that the dog was in the restaurant, the warrant says.
Schwenker explained to Allen the dog's purpose and told the manager the dog was legally allowed to be inside the establishment.
Allen continued to berate Schwenker, following her around the restaurant and even into a bathroom.  During the incident, one of Schwenker's twins disappeared. The mother threw her cup to the ground and ran outside to look for her child, the warrant says.
Allen believed the cup was thrown at her and followed the mother into the parking lot, where she is accused of hitting her in the face.
Whether the cup was thrown at her or not are we to believe that it warranted a punch to the face? Or was this just the excuse Allen needed to let this seemingly obnoxious customer in her mind know who's boss?
But then again, who's really the boss in a fast food culture where managers get to dress in happy clown outfits for minimum wages looking for anything that will lift them out of the doldrums?
At present the owner of the McDonald's has declined to be interviewed (wonder why?) whilst Allen for some reason or another is said to no longer be working there.
Aren't you happy you get obnoxious service now when you order obnoxious food on the go?
McDonalds fires employee who shot video of transgender being beaten into a seizure.
Did you manage to get into a brawl and then run over by a car while you waited to fill out your employment application at McDonald's today?
Have you tried McDonald's newest offering?
MCDONALD'S INTIMIDATES ITS EMPLOYEES INTO VOTING FOR REPUBLICAN CANDIDATES
ISN'T IT TIME YOU HAD A MCDONALD'S GREEK MAC TOO?
MCDONALD'S TO HOLD FAST FOOD WEDDINGS IN HONG KONG
MCDONALD'S SEX TRADE IS BOOMING.
MCDONALDS INSISTS ON CONFUSING AMERICA.
COMING, TO FRANCE'S DISMAY- MCDONALDS!