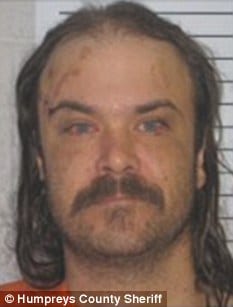 Indecent episodes in police brutality.
FOR INCRIMINATING VIDEO SCROLL BELOW:
A man who has spent 5 months for purportedly resisting arrest has had all the charges against him dropped pursuant to his lawyer coming across incriminating evidence of how things actually went down the night of his arrest.
Coming across a video tape, that had been running all the while by a police dashboard camera, the tape shows, Darrin Ring, a 34 year old unarmed man being stripped by 4 police officers, handcuffed, viciously beaten and then tasered whilst he lay screaming and shivering naked in the snow.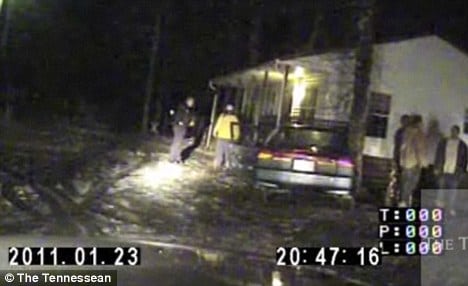 For his troubles, Darrin Ring was left with four broken ribs and a punctured lung and of course a 5 month stint behind bars.
Frankly you don't get better crime episodes then this one.
It all started when police answered a phone call regarding alleged gunshots on the outskirts of Waverly, Tennessee. When they arrived on the scene, they came across an intoxicated Darrin Ring wandering around, unarmed.
Asked then to take his hands out of his pockets, the inebriated Ring appears to obey, but repeatedly puts them back in his pockets, who knows maybe because it was snowing. That is when one of the police officers, decides to take matters into his own hands, when he then decides to wrestle Ring to the ground.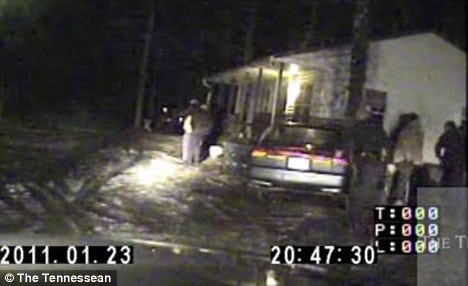 And that is when it went from bad to worse:
dailymail.co.uk: Then his colleagues join in, stripping Ring and leaving him lying in the snow.
According to his civil lawsuit, the officers then stunned him multiple times with a Taser gun and sprayed him over and over again with pepper spray.
The full ordeal allegedly lasted for ten minutes. On the clip released by Ring's lawyer, he can be seen lying on the ground with two officers on top of him while two more appear to take turns kicking and punching him.
Eventually brought into bookings, his bookings photo shows him with cuts and bruises. To counter this the arresting officers held that they had been forced to 'beat the crap out of him' subdue him when he wasn't behaving in an appropriate manner, after having kicked one of the officers in the testicles, and poked him in the eye. Never mind what Rings endured…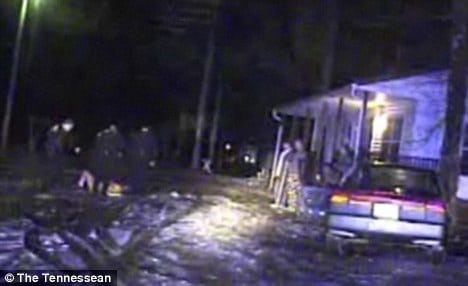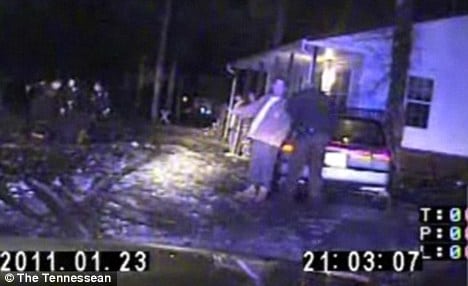 But the story keeps getting better.
After Chris Davis, the county sheriff was notified that a lawsuit was pending, he adamantly defended his deputies. But that all changed when he caught wind of the FBI later investigating after the video first went public.
At present, Tim Hedge, James McCord, Benjie Lee and Joe Parnell have all been placed on leave. That said one has to wonder, what inspired the officers to such capricious behavior and at what point do those people who are served to protect society from maladjusted individuals and criminals, become the very thing that we should never tolerate from upholders of the law?