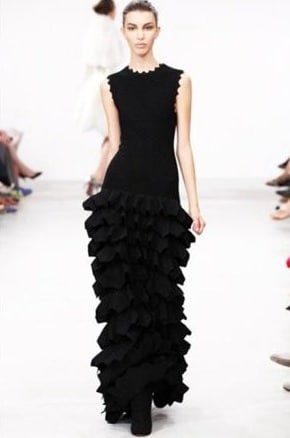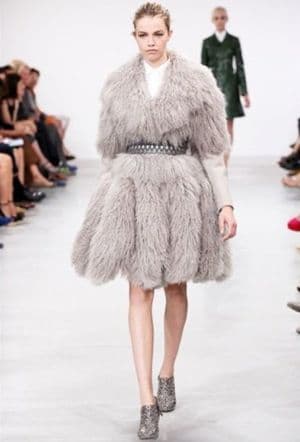 Fashion knows no fury.
After an 8 year hiatus from the runway, Azzedine Alaia put on a critically acclaimed collection in Paris, Thursday.
With a preponderance for sculpted skirts and signature body conscious dresses the collection was well received with the likes of Donatella Versace, Kanye West, Sophia Coppola with her daughter Romy (Alaïa's rumored to be making the director's wedding dress) in attendance with France's Culture Minister Frédéric Mitterrand, pulling a reluctant Alaïa from backstage at the end of the show to take a bow.
But the real drama wasn't necessarily what was happening on the runway but rather behind it.
styleite: Not only did Anna Wintour go to the Harry Potter premiere instead of the Azzedine Alaia show yesterday, she forbade the entire Vogue staff from attending the designer's Paris show.
While Arizona Muse and Karlie Kloss walked the runway for Alaia, Anna Wintour jetted to London for the Harry Potter 7 premiere with stylish Burberry-clad niece, Ellie Wintour.
With a long standing feud between the designer and the editrix it's been common knowledge within fashion circles that these two can barely stand each other. To understand the degree of animosity one also has to be aware not only did Ms Wintour ban the entire Vogue staff from attending, the designer made sure to exclude the journal from its invitation list.
Alaia said last month of Wintour, "She hasn't photographed my work in years even if I am a best seller in the U.S. and I have 140 square meters at Barneys. American women love me; I don't need her support at all."
Apparently the standoff comes as a result of the designer being snubbed by the editrix when she held her 2009 Met fashion exhibit and gala. If one is to also go further it's also no secret that there is not much love lost between Azzedine Alaia and another designer- Karl Lagerfeld who ostensibly reigns alongside Marc Jacobs as the editrix's right hand and left hand courtesans.