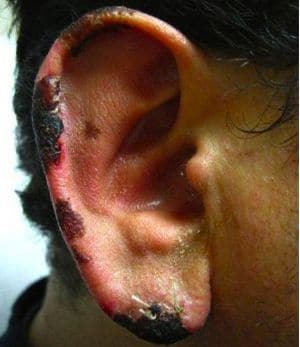 Krokodil, flesh eating drug, now reported in US. (Graphic video).
The perils of getting high just got complicated.
In a new report to be published in the Journal of the American Academy of Dermatology, 6 patients ended as a result of using blow developing purple-colored patches of necrotic skin on their ears, nose, cheeks and other parts of the body.' All this courtesy of most drug dealers favorite cutting agent- levamisole (which in English translates to animal de-wormer), which makes it in about 70% of the stash floating the US. At present the irritations have been turning up in the NYC and Los Angeles area. Not that will necessarily stop most die hard New Yorkers and Los Angelinos from using the good shit.
Counters study author Noah Craft, MD, PhD, Los Biomedical Research Institute at Harbor-UCLA Medical Center; " "We believe these cases of skin reactions and illnesses linked to contaminated cocaine are just the tip of the iceberg in a looming public health problem posed by levamisole."
And then there's the fun stuff coming out of Russia, krokodil ("Крокодил" or "crocodile"), an opiate cooked out of gasoline, paint thinner, hydrochloric acide, and red phosphorous" plus the key ingredient, codeine. According to a report out of animalny the stuff is 10 times harder than normal heroin and three times cheaper (a winning combination if you can fathom it).
What makes krokodi all the more appealing is its delicious ability of disfiguring you around the point of injection and leaving you looking like a bloated monkey with gangrene. Not sure how you'll explain that one or the at the office.
At present the epidemic isn't recognized by the Russian government with most affected users seeking solace from underground Russian Evangelical churches. It is said the estimated life expectancy of users on crocodile is 2-3 years- which doesn't sound too good, but then again that's the whole paradox of drugs- it feels so good but is so damn bad for you.
Aren't you glad you're no longer doing lines of blow and cancelled that trip to Russia?