Taylor Momsen always knows best.
Kids will be kids- but in this case, it's just better to say Taylor Momsen will always be Taylor. How exactly you wonder? Let's all look for some black electric tape and roll our shirt up and see if Taylor can teach us some tricks. We're betting the bitch can…
ology: According to Zap2it.com, Little J showed up to Download Festival wearing THAT. Yes, a loose, ripped shirt with her boobs hanging out. She was totally braless, but don't worry, her nipples had black electrical tape on them. So that makes it better. Well, at least it gave our photo-editing expert a break. He's thrilled.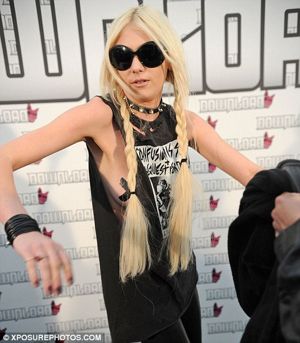 Now that's hawt kids. Nothing like verging on kiddie porn to get the peons in the audience goggling in glee. But as far as Taylor and the kids that applaud her all day long, 17 is like the new 21, 18 the new 30 and 21 the new 45.
Anyway here's a selection of some Taylor's fav shots, she just ask you salivate with grace.
Hawt bitch!