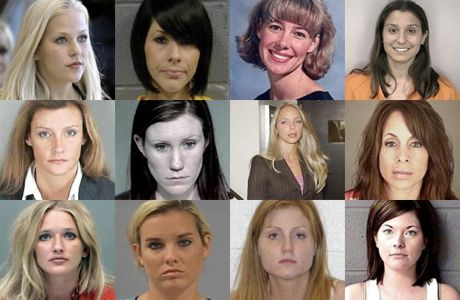 Is it all about the cougar effect?
Out of the dailymailco.uk comes an interesting article posing the question why are so many US female teachers having affairs with their students?
dailymailco.uk: As school years go, this one has been riddled with sex scandal.
But it's not droves of male teachers who are being arrested and charged for having sex with their under-age students – it's females.And as yet another young, female teacher is this week arrested for allegedly having sex with her 16-year-old student, the MailOnline asks: what's happened to America's female teachers?
The article inspired by the recent arrest of Illinois teacher Nicole Letcher who has been charged with 6 counts of sex abuse with a 16 year old prefaces these women as being predatory.
Leading child psychologist, Dr Michael Oberschneider, of Ashburn Psychological Services, puts the increase of cases down to the blurring of boundaries between teachers and their students.But he also has something to say about the potential influence of TV shows like Cougar Town and films which seem to celebrate the so-called 'Mrs Robinson' effect.'As a nation we are over sexulising things,' he told MailOnline. 'Our prime time shows are becoming very graphic, we have TV shows that encourage 'cougars' – they're saying isn't it a wonderful idea for older women?
Are we to really believe it is the effect of these shows that women are now succumbing to the temptations of young men entering adulthood? Can one wonder if instead it's a situation that these female teachers by virtue of spending so much time with these students build a nurturing sensibility towards them? Or could we even wonder the appeal of being in a position of authority that really appeals to these women and on some level unlike what most women may experience in the real world when it comes to dating, getting involved with a younger man invigorates a woman's sense of self worth, her power and perversely her femininity?
And how do the young men, the subject of these women's affections see it?
Dr Oberschneider, who sees both teenagers who have been sexually abused and the adults who sexually abuse, said having sex with older women, especially women in a position of power is a badge of honour for some boys and their peers.
But perhaps more disturbing is the attitudes of some parents to what should be a harrowing ordeal for their child.
'I've had teenage boys in my office talking about being with older women and their parents are laughing,' Dr Oberschneider said.
'The father is almost saying "atta boy". 'There is a certain mystique around the older woman in our society,' he