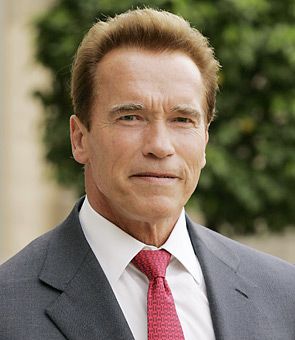 101 in infidelity.
There's a saying that goes something like this: 'Keep your friends close, but keep your affairs enemies closer.' Perhaps this might explain how the former action star and politico was able to maintain appearances.
Lesson one: Blissfully embrace your adulterer in the company of your wife.
dailymail.co.uk: New pictures which depict the depth of Arnold Schwarzenegger's double life have surfaced.
In one of the images taken 10 years ago a trusting and blissfully unaware Maria Shriver embraces Mildred Baena at a family event.
The pair both smile broadly at the camera as they share a hug, suggesting the pair had a close relationship.
Maria had no idea at the time that the woman she was so warmly hugging was having an affair with her husband and had given birth to his child.
Lesson 2; Take as many pictures with you and your accomplice as possible. Nothing begets comfort and truth than repetition and wide smiling faces.
In another picture, the former Governor of California shamelessly wraps his arm around his lover in front of their families.
Mildred snuggled in close to Schwarzenegger resting her head on his chest – presumably not for the first time.
Lesson 3: Make sure you go out of your way to show your belief in god and morality. Attending your housekeeper's son's baptizing should go a long way in intimating such feelings and principles. Of course feel free to lug the whole family with you to the church.
Arnold's love child Joseph, aged three at the time, is seen being blessed by a priest. He is being guided by a boy who is thought to be a young Patrick Schwarzenegger, who would have been seven at the time.
Joseph also stands in the pew beside another young child believed to be Christopher Schwarzenegger. The boys were born just days apart.
Lesson 4: Keep smiling for the cameras and keep the torment of your double life solely to yourself.
On one hand he was the doting father-of-four, an Austrian immigrant who had turned his life into the American dream by marrying a woman from one of the most famous dynasties in the U.S. – the Kennedys.
But on the other hand he was having a shameless affair with his long term housekeeper under the nose of his wife while entwining the lives of both without fear that he would ever get caught.
Lesson 5: If you can manage it become a movie star or big time Governor where your sense of entitlement and ego outstretches that of most normal people. And since you're an important person used to getting your way you can go straight to lesson 6:
Meanwhile, Schwarzenegger is also now accused of using taxpayers money to cover up multiple affairs which has triggered a criminal investigation.
The National Enquirer are reporting that the former governor used his security detail in keeping details of his liaisons a secret.
Isn't it time you tried Arnold's deceptive tricks at home too? Why delay when you can be having a power affair right under the nose of your spouse?
And what will it cost you?
TMZ are reporting that she is going ahead with her divorce plans to bring an end to her tumultuous marriage.
Her husband has also met with another high-profile divorce atorney, Bob Kaufman, although it is not known if he has formally retained the lawyer yet.
In other words a cool $200- 400 million.
Why delay? Shouldn't you be able to have your own high profile affair too? Now thanks to Arnold's step by step plan you can.
No warranty offered….
IT'S TIME TO RELIVE THE MOMENT ARNOLD AND MARIA FELL IN LOVE.
ARNOLD SCHWARZENEGGER AND MARIA SHRIVER CALL IT QUITS AFTER 25 YEARS.