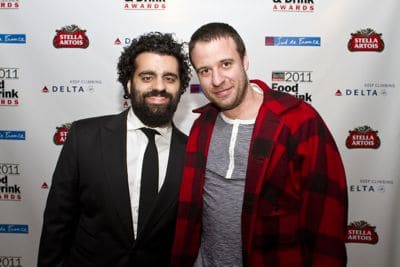 Our spiritual colleagues over at Time Out New York have made every effort to keep the masses apprised of the best of what this city has to offer.  They've explored it all, and done a damn fine job of letting you know about it. And one of the city's best known features—the food, dear readers, the food—has been explored and celebrated once again. The 2011 TONY Food & Drink Awards took place Monday night, and it was a smash.
Changing up their routine from previous award seasons, TONY instead invited restaurant nominees in various categories to come and showcase their wares: Best New Pizza, Best New Local, Best Comeback, Best Southern Comfort, and so on. These recipients were appointed by the readers of TONY, with a separate gamut of Critics' Picks awarded as well.
On hand to taste last night were some truly delectable treats. The Brindle Room (down on 10th st) provided the savory and spicy Frito Pie, which delivered a satisfying crunch.  I highly recommend it.  Duck & Okra Gumbo, courtesy of Tchoup Shop (pronounced 'Chop'), was deliciously hot and satisfying, with andouille sausage adding some welcome zest. Barrel-chested chef Simon Glenn ladled up his gumbo with aplomb.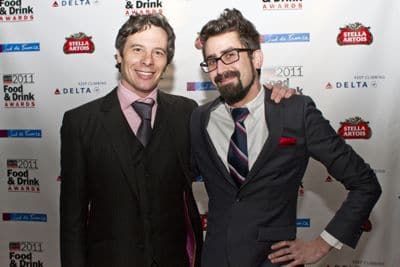 The Brooklyn Star provided that comfort food staple, Chicken & Waffles. It was a pleasant marriage of salty and sweet , with 'Spicy Chow Chow' nailing it home.
The favorite of the evening, however, was the Meatball Bruschetta, of Rubirosa, at 235 Mulberry St. A generous slice of meatball (the size of half a baseball) sits atop toasted Italian bread and parmesan. There were forks available, but as the chef Al Dimeglio confessed, they were just a formality.  Rubirosa was also kind enough to bring along their just-sweet-enough house made cannoli.
Also for dessert was the curious-but-tasty Salty Honey Pie, courtesy of Four & Twenty Blackbirds, which tasted more of butterscotch than either honey or salt.  Blackbirds won the Critic's Pick Artisan of the Year award, and it was well-deserved.