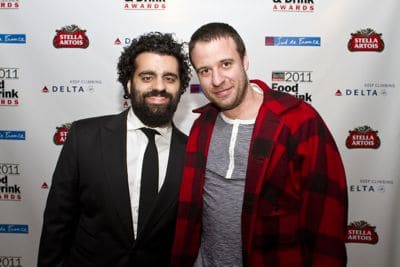 But what good is delicious food, without something to wash it down? Punch and cocktails were provided by Reader's Choice award winner for Best New Cocktail Bar, Dram. Bartenders Frank Cisneros and Jeremy Oertel were proud to represent their Williamsburg bar. "Dram is bartender-driven," explained Oertel. "The drink menu is constantly changing. Our specialty is that we have no specialty. We make everything." On winning the award, Cisneros said, "It feels great! It's a validation of our hard work and service." Dram has a rotation of six main employees, with frequent guest-bartenders making visits from "all over."
Other potables poured plentifully included sponsors Stella Artois, Sud De France and (le) Poisson Rouge.
As brilliant as the food was (and it was), it was still a grand party. Jazz, Pop and Big Band music filled the air, courtesy of Vince Giordano and the Nighthawks. It took some doing, but before long there were couples dancing across the floor.
Food & Drink editor par excellence Jordana Rothman took to the stage to congratulate and thank all the award recipients and nominees. "This night is about food, and about you guys," she confessed. "Time Out is only as fantastic, lovely and amazing as the food and drinks that you bring to New York."
For a full list of winners, visit www.timeoutnewyork.com .