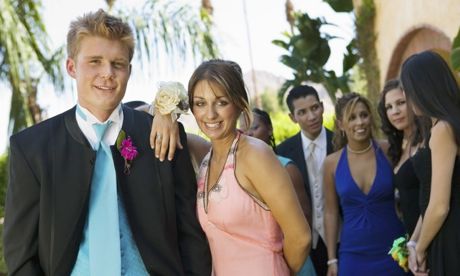 Tis the season for folly, galas, spilling Kool Aid on your $800 Miu Miu's and of the NYC city prom season. Which leaves us wondering how will you shape up relative to all the other school kids?After all your reputation and your chances of making it up the social kiddie food chain depends on it. And of course kids we're watching you. Or rather Gawker and our friends the NY Trash Post are watching you. That said, let's take out mommy and daddy's credit card and go for an expense whirl.
gawker: It's prom season, which means it's time for the New York Post to roll out its trend story about how New York City proms are more outrageously expensive than ever. However! Our scientific meta-trend analysis shows isn't quite the case.
Uh- oh. Scientific meta trend thing a ming jing. Sounds important. Ok. I'm curious, what's it going to cost the city's rising stars this time to outshine themselves?
We analyzed data from the 2007 and 2011 articles in four key Prom Expense Sectors (PESs) and found a noticeable decline in outrageousness from the 2007-2011 prom seasons:
Dresses:
2007: "One seller at Barneys said she recently peddled a $2,700 ivory, ballerina-style dress to a Manhattan private-school senior."
2011: "Alessandra Asperti… will spend roughly $1,500 on her big night."
Most outrageous: 2007
Kids. What's going on here? I'm sure a few of you could pitch in and get the proper attire you deserve. In fact I've got an old frilly dress here that an ex left with me which if I dry clean over and over could leave you gaping and willing to shed a cool $3K. I'll even put my own personal motto on it- 'blah biiitchh,' 'Prom Star.'
Transportation:
2007: "One rich Manhattan prep-school teen recently rented a Range Rover limo for $8,400 for the prom."
2011: "The traditional white limo is a thing of the past… Now, it's a $9,000-a-night double-decker Hummer equipped with stripper poles."
Most outrageous: 2011
Kids- I will as a favor to you all lend you my monthly subway card. It only cost me $104. That's my way of giving back to your grand trip up the wholesome stakes of giddy prepubescent society delights.
Plastic Surgery:
2007: "Dr. Lewis Feder said two teens came to his Fifth Avenue office for some pre-prom primping that included Botox between the eyes…. he has also given three other girls—two from Westchester and one from Manhattan—Restylane injections for artfully fattened lips that cost about $600 each."
2011: None.
Most Outrageous: 2007
No plastic surgery this year? Strange. I thought I noticed a few stretched foreheads last time I cruised the Upper East Side's Dorians. Didn't you? ps- tell me Dorian's is still there?
After Party:
2007: "Rich Manhattan teens tend to have private post-prom parties at Hamptons homes that are catered, have security and DJs and last for the weekend."
2011: "Christina Ornes, a senior at St. Mary's in Manhasset, LI, will be heading to a Hamptons mansion after her prom with 25 other students."
Most Outrageous: Tie.
All right – you made me do it. I'll crack open a bottle of Kool Aid and invite a few of you snots charmers over for a rolled up $20 and powder dance and kiss session behind mommy and daddy's auspices. Just be sure to tip your bartender which will be me. Remember – 'Winning- duh!'
Oh dear- what has become of young society? Never mind, I'll have to have a chat with my good friend Peter Davis over at Avenue mag– maybe we'll figure a way to get your parents to pull out the stops. But then again – who wants to be an adored spectacle socialite by the time they are 19?Not you I suppose?