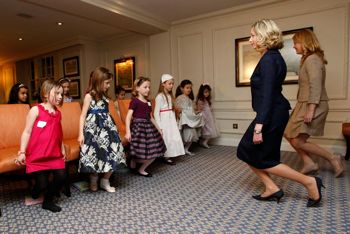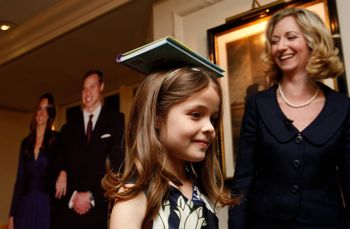 Are you a princess in the making?
With the royal wedding just around the corner a school for young ladies wishing to become princess' (yes you read right) has opened up for class. Wondering what you'll learn? Well- how to curtsy like a lady for starters, how to properly keep crumbs at bay, what to say to the queen and of course how to properly eat cucumber sandwiches.
associatedpress: At first glance, the scene smacked of the 1964 film "My Fair Lady," except Audrey Hepburn's working class character had been replaced by a crew of tafetta-wearing pre-teens with books on their heads who were gleefully learning to stir their tea without clanging the cutlery.
The April 29 wedding of Prince William and Kate Middleton has fueled a bonanza of opportunities for niche entrepreneurs.
"It gives girls the ability to know that they can be in any situation — whether it's with the queen, their parents, their teacher, a friend — and know that they're behaving the right way. And I think that's important, royalty or no royalty," says Jerramy Fine, 33, the American founder of Princess Prep.
How charming. I must admit I'm curious to know if there is a school in the works for those young lads wishing to also be princes? One can only imagine what one could be taught there- how to keep a stiff upper lip, salute at the Queen as she walks past and of course how to properly eat tidy petite hamburgers.
And how much does this privilege cost?
Saturday's one-day course will be followed by a series of weeklong summer camps in London for 8- to 11-year-old girls. Costing more than $4,000, the camps teach girls about modern and historic princesses, royal history, phone etiquette, how to take compliments and how to curtsy. The girls also volunteer at charities — all while being waited on by a butler called 'Jeeves.' Fines says she expects to draw more Americans for the longer summer camps, which are in their first year.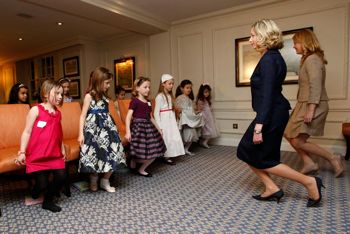 Jeeves? One would think for $4000 one could come up with a more beguiling butler's name. But Jeeves it is.
And may we enquire how the young starlets feel about their grooming as princess?
"Before, I felt shy and like just a normal person — and now I feel like I actually am a princess," said Maude Fisher, 8, whose mother is from Milwaukee, Wisconsin.
Dear Maude, I must confess is one obliged to use both a fork and knife to eat a cucumber sandwich or is one in rare instances allowed to use their hands?
Shouldn't you be sending your darlings to London soon to learn the gentle art of being princes and princess too?