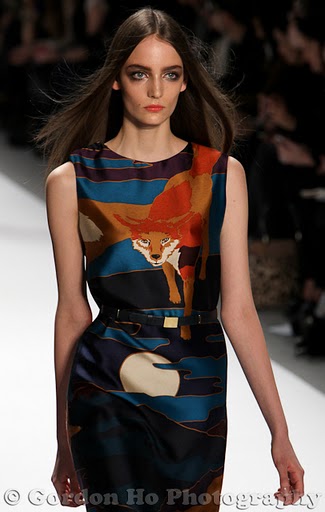 Jil Stuart was one of my very first fashion shows, so there's a soft spot in my hard heart for this line. I think even those more objective than I would agree that Stuart reliably produces outstanding collections, and this season was no exception. While not her best or most ground-breaking collection, Stuart's fall 2011 runway show produced highly wearable but exciting pieces.  
And her audience, as always, was A-list. A flutter of glowing blonde hair in the dimming lights revealed Mena Suvari laughing breathily, hand to chest, at a joke made by one Nigel Barker. Such a laugh, I might add, only served to emphasize her bosom. Barker did not fail to notice. 
Meanwhile, in the foreground, the show opened with a short silk shift in a retro Southwestern-style print.