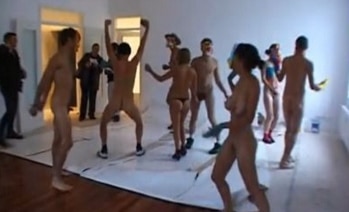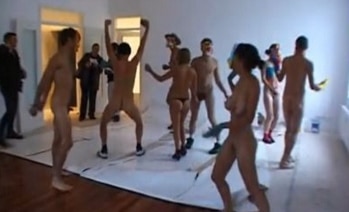 Shouldn't you be stripping naked too?

In a sign of defiance to the increasing costs of living in Berlin, which until now had remained markedly cheaper to live than other European capitals, a young group by the name of 'Hedonist International' has taken to arriving at apartment viewings naked. Of course this hasn't necessarily led to cheaper rents…
thelocalde: Clothes off, cartoon masks and music on. The 10 or so young Berliners get naked in seconds, dancing around at a flat viewing in an unusual form of protest at quickly rising rent rates in their city.
Bopping around in the buff in the living room of this apartment in the formerly communist East Berlin district of Friedrichshain, the demonstrators quickly drew the ire of the estate agent conducting the viewing.
"Get out! I'm calling the police," he screamed, trying in vain to grab one of the naked dancers as techno music boomed.
With what used to be an enclave for punks and squatters, the neighborhood, particularly those areas originally demarcated in East Berlin, has now become a haven for hipsters and celebrity couples with prams. Not the preferred hotbed for those who want to cling onto cheap rents, in the face of increasing gentrification.
And what of the protests? How do they end up? Let's look for our clothes on the floor and read on…

Meanwhile, back in Friedrichshain, the agent has made good on his threat and two police vans and three patrol cars, sirens wailing, screech to a halt outside the apartment.
The hedonists had already gotten dressed and fled, hastily zipping up flies and reclipping bras.
"What we're doing is not a crime," said Nick. "These are public viewings and we are not entering the apartments by force."
The agent, livid, refused to respond to questions. "No comment. No pictures. Out!" he said.
Which has us wondering, how perverse that an area once imagined uninhabitable becomes very habitable and desirable, and yet even more perverse is instead of moving on to the next de rigeur neighborhood (as has been custom for culture transgressors) the transgressors insist on staying with the hipsters and the pram plowing couples…