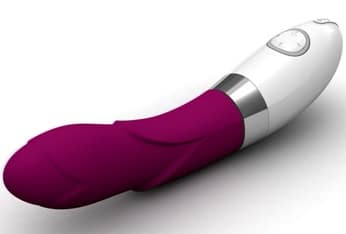 Carolee Bildsten of Gurnee Illinois is being held on aggravated assault charges for, allegedly, pummeling a police officer with a sex toy.

As luck (or lack thereof) would have it, Bildsten was eating out at her local Joe's Crab Shack and had an, ahem, hard time paying her bill, so decided to dine-and-ditch.

In what sounds quite a lot like a porno plot, our bad-girl was confronted by police Cmdr. Jay Patrick who went to her residence to investigate. As per usual, that's where things get hot…

As would any self-respecting overwhelmed seductress, our 'action actress' reportedly attacked the commander with what he called 'a rigid feminine pleasure device.' Indeed. Perhaps our hot trollop just fancies herself a dominatrix?
No leaked videos yet, or word on the exact nature of the attack, but Bildsten — whom has been known to skip paying her restaurant bill in the past (oh well…) — has also been charged with theft of labor services and, if convicted, could well face a very stiff sentence.
Isn't it re- assuring to know sex toys can now be used for multi faceted needs..? Mmh, shouldn't you have a spare sex toy lying around the house too?