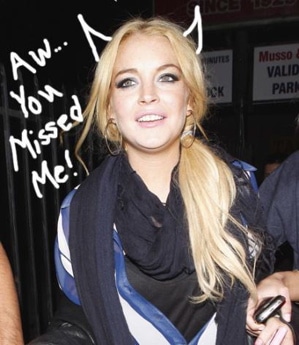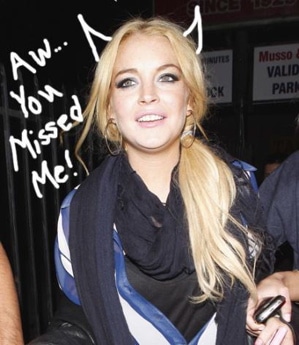 'Look Ma, no hands!'
In what's turning out to be more of a dramatic performance than any movie roles our collective hero could've hoped to land – news outlets have reported that Los Angeles Superior Court Judge Patricia Schnegg has ordered Lilo out of jail and instead placed her on a $300 000 bail, hours after another judge had Lilo heading back to Lynwood Correctional Facility.
Perez Hilton: The reversal came after La Loca's attorney, Shawn Chapman Holley, filed an appeal arguing that Lohan was entitled to bail since her underlying case is a misdemeanor.
"There is no question that Ms. Lohan is entitled to bail while her alleged probation violation is being adjudicated," Chapman Holley said in her writ of habeas corpus.
Judge Schnegg agreed, saying: "This is a misdemeanor probation case and the defendant is also entitled, as a matter of right, to bail pending the outcome of the probation revocation issue."
It just may be right that our collective hero was dealt a harsh hand, or the slight of a judge who was presumably too eager to deal with Lilo in a way that suggests "party favors and 8 inch Louboutins aside' the court always knows best. The truth is Lilo always knows best and to be sure the little chipmunks we keep in our closet haven't stopped clapping with joy. Of course you're probably clapping for joy too…

Isn't it time you became immortal like Lilo too?