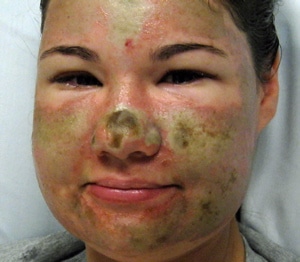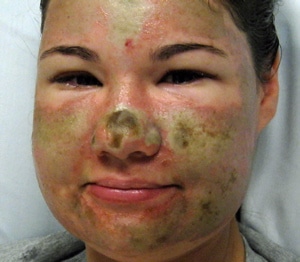 The first victim in the series of copycat acid attacks recently, Bethany Storro, has admitted she inflicted her facial wounds upon herself and fabricated the story; this shortly before her scheduled Oprah interview.
The development, at first quite striking, seems oddly pedestrian once we being to consider the cultural precedent celebrities have already set by serially disfiguring their faces to successfully gain media attention.

Though the local police chief, Clifford Cook, said he "does not know a motive for Storro's actions,"Heidi Montag facial disfigurement for fraction of the Hollywood price?  we hardly need help with imagining one. After all, didn't she see almost the same volume of press attention as any
But as is so often the case when settling for a bargain bin surgery, the execution (ahem) got a bit sloppy…
AZ Central: "several discrepancies began to emerge regarding the alleged attack" during the investigation. During a search of her home and interviews Thursday, "Ms. Storro admitted the injuries were self-inflicted," Cook said.
Police had been seeking a black woman with a ponytail in the Aug. 30 attack. Storro had said the woman asked her, "Hey, pretty girl, want something to drink?" then threw acid in her face.
Though Storro is said to be 'remorseful,' we should wonder if it's because she feels for herself or the number of copycat acid attacks victims her charade set in motion.
Bubbling beneath the still open sores here is quite another, equally serious question, if a more subtle one: why do so many young women seem willing to make the masochistic sacrifice of their 'pretty' faces and go under the knife for the glamorous life of a media starlet? And why was Storro so eager to imitate them? And even more sinister, why was the supposed perpetrator a vilified black woman instead of a pretty 'white' woman?

Isn't the media more than just a little bit complicit in this?
Bethany Storro has acid thrown on her face from a random stranger.
Derri Velarde: Copycat Acid Attack in Arizona, Second This Week – A Trend Forming?