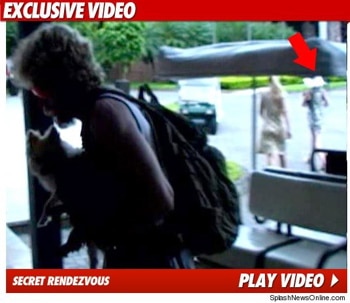 How to fool the American public and make a bundle at the same time.

Here's an interesting story of cynicism and bilking the American public- take a manufactured plastic doll that commands 24/7 air time, take a conniving cowboy wrangler, a potentially riveting sex tape and of course America's appetite for the profane and titillating and see how much money you can squeeze out of them. Result- a fistful of dirty money.
Huffington Post:Spencer Pratt, who recently approached Vivid Entertainment to sell his sex tape with Heidi Montag, is drumming up publicity for the tape over Twitter.
"Promises you the Citizen Kane of sex tapes. Honestly, Orson Wells makes a guest appearance," he tweeted over the weekend. "Recommends you wait for the Special Edition Sex Tape. Blu-Ray, director's commentary, & bloopers!"
Spencer's sales pitch did not please Heidi, who filed for divorce last month.
"@spencerpratt F U!!!!!!!!!!!!!!!!!!!!!!!!!!!!!!!!!!!!" she tweeted.

Of course for a moment even we would be tempted to see the dry sweat beads furiously cascading down the duos sun kissed foreheads until we got to the part were the beloved couple were spotted (and frantically running away from press) by press together the very moment the vitriol was flying over public air space.
TMZ:Heidi Montag and Spencer Pratt are getting divorced and Spencer is threatening to release a flurry of sex tapes that  feature his handiwork with Heidi, along with some girl-on-girl … so it's more than telling that a paparazzi agency shot video of the two of them together Sunday at a resort in Costa Rica, frantically separating so they would not seem in cahoots.
One day when Heidi and Spencer are knocking back the sombreros of each other's tequila shots they will fondly reflect how fortunate they were able to stir up our collective lust for them and how for a moment living in America was nearly a possibility before they were finally booed off into oblivion.
That said, we're sure you'll enjoy the sex tape when it comes out, only to accidentally confuse it for an empty pizza box that you will later throw out that evening.
Heidi Montag's Plastic Surgeon Dr Frank Ryan is killed.
Study says teens hooked to reality Tv more likely to get plastic surgery.
Spencer Stealing Heidi's Money & Spending it on a New Lady?