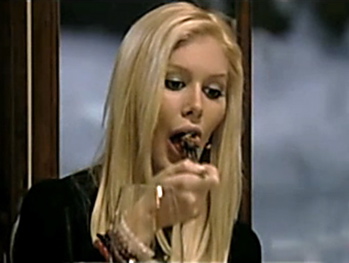 The curse of Danielle Staub.
Here comes a compelling study. It used to be when I was growing up watching Bugs Bunny cartoons or Skippy the Bush kangaroo it would translate into making you becoming anti social or worse a cranky writer- which strangely I have become. But a new study reveals that today's kids are now as a consequence of being inundated with reality TV (which is frankly scripted you silly buggers…) turning to the knife. Shocked? We're not. Let's take out our plastic surgeons phone number and read on shall we…?
NY Daily news: Teen watchers of reality shows that focus on surgery and appearance are more likely to go under the knife themselves, a psychologist has found.

Charlotte Markey, an associate professor of psychology at Rutgers University-Camden surveyed 200 young men and women and found that female viewers of reality shows, such as MTV's I Want a Famous Face Dr. 90210 and Oxygen's Addicted to Beauty were more inclined to consider cosmetic procedures than those who didn't tune in, according to research published in the academic journal Body Image.
Which should mean if we turn off the TV there'd be less kids running to see Dr Change de face Urgently. But as you all know, reality stars and TV sets mean the world to all of America's children.
That said, does changing my nose, or the projectile alignment of my breasts make me happier, say the way it makes our collective friend Danielle Staub? (yes- the video link made us cry for Danielle too…)
"What troubles me is that there's no conclusive data that cosmetic surgery even makes people happier, what has been documented is that it makes repeat customers."
Never mind. As long as you think I'm better looking than you – who cares if I end up growing up with misguided notions. Ahh, what's on TV tonight?