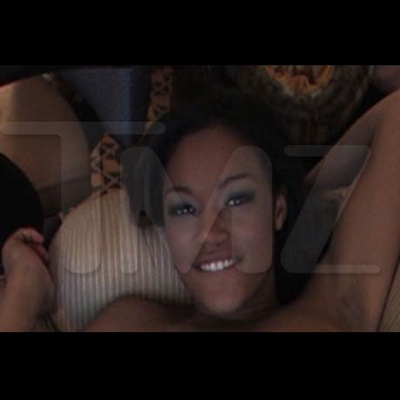 Kim Kardashian can now tout that she has more influence on the world than just her fat ass and string of NFL boyfriends; she is now influencing teenage girls to start doing the dirty on camera. Why? Because doing porn makes you successful, according to Montana Fishburne, aka Chippy D, the daughter of actor Laurence Fishburne.  We're glad Laurence has taught his bundle of joy well. Montana, 19, is going by the name Chippy D (we don't get it either), and releasing her very own sex tape via Vivid Videos.
Huffington Post: "I've watched how successful Kim Kardashian became and I think a lot of it was due to the release of her sex tape."
Successful, eh? Why don't you take a cue from the Drew Barrymore playbook, and just have a few year drug addiction, and then mega-star comeback? That sounds just about as safe as using sex for "success." One also has to wonder, how well you can do making a sex tape when you look exactly like your father, Laurence Fishburne. If she was really smart and entrepreneurial, she would have asked Daddy to make one himself, release it, and see how it did. We're sure it would elicit a similar response, or gag reflex.
Images courtesy of TMZ.
It's time to finally watch Kendra Wilkinson have sex.
Now it's Courtney Love's turn to stick some fingers up her dress.