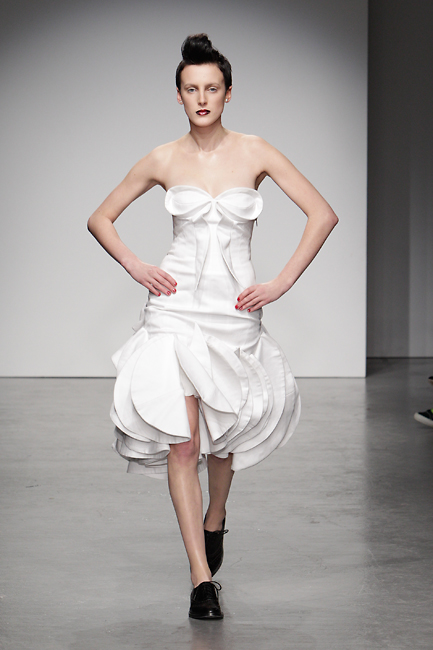 When it comes to fashion London has long been heralded as the place to discover the innovative, the cutting-edge, the avant-garde. There's no doubt that Alexander McQueen cemented this notion, and was, in fact instrumental in shaping British fashion over the past decade. News of his tragic death shocked the industry to the core, not only would his designs be missed but so would his highly conceptual shows. As any fashion insider would be happy to testify; getting an invitation to the Alexander McQueen show was like a child winning a golden ticket to Willy Wonka's Chocolate Factory.
As London Fashion Week pressed on the fashion pack mourned McQueen with personal messages on his tribute wall and we all understood we had lost an irreplaceable soul. Feeling somewhat sombre that the drama – the unrelenting creative spirit had practically disappeared from the catwalk London's On|Off initiative exposed an unexpected surprise in the shape and form of Ziad Ghanem.
The music, the models, the make-up, and of course, the clothes fully embraced drama from start to finish. Part performance part show Ziad literally got his audience on their feet and cranking their necks to see more as he merged old school couture with Brazilian burlesque and a side order of urban attitude.
Dubbed the 'cult couturier' by the fashion press Ziad has gained a staunch global following that includes industry stylists and celebrities. Hailing from Lebanon Ziad relocated to London in the late 90's eager to start his own fashion line. Primarily known as a ready-to-wear designer Ziad shifted his business towards a bespoke direction over the last few years. We caught up with him post London Fashion Week to find out more about his visionary designs plus various other fashion musings…
JoJo: Wow, what a fantastic show, you must be thrilled with such a positive response to the collection (the audience gave Ziad a standing ovation).