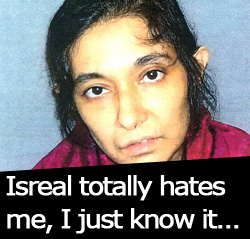 If you can't shoot enough Americans, there's always shooting Israelis.
Just reported in the press this afternoon was the fact that Aafia Siddiqui, otherwise known as Lady Al Qaeda (as opposed to Lady Gaga?), has been convicted of attempted murder, the ruling handed down in a packed Manhattan courtroom.
Reports the NY Daily News:
"This is a verdict coming from Israel not America," Aafia Siddiqui exclaimed, raising one hand and pointing up before being led out of the Manhattan courtroom.
Lady Al Qaeda is more than likely to find her stay behind bars a trifle inconvenient because as the NY Daily News reports:
"In my opinion this verdict is based on fear, not on fact."
Which is a round-a-bout way of saying that when the other prisoners get round to beating her up, it was only because the ruling was never based on fact, but fear.  Or whatever.
The lawyer claimed Siddiqui's anti-Israeli comments were the paranoid rantings of a women who had been held in solitary confinement for 18 months.
Well, it's good to know jail is just around the corner once again, but this time it's for life…
Source: NY Daily News