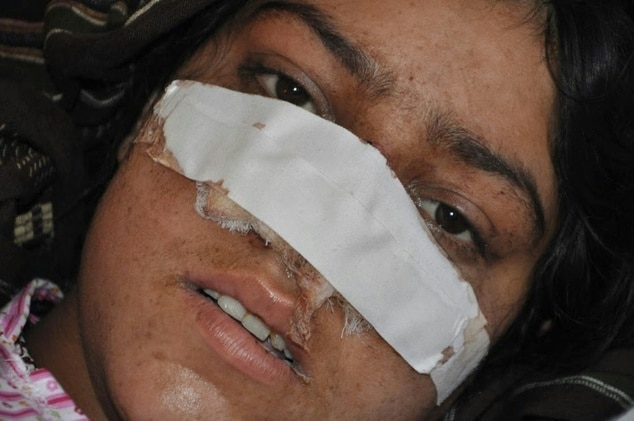 Reza Gul Afghan woman nose cut off: The unrelenting subjugation of Afghan women continues unabated….
A 20 year old Afghanistan woman, Reza Gul has had her nose cut off with a pocketknife at the hands of her enraged husband over the weekend.
Despite losing large amounts of blood the mutilated woman survive the attack in the northwestern provinces of Faryab after being rushed to hospital.
At the time, the woman's husband, whom Reza was made to marry when she was only 15, had recently returned from a trip from Iran, when he took to beating and torturing his wife. Ironically the woman's beating came as the man, Mohammad Khan had just taken a new wife, with local reports telling the new wife was aged just seven.
In the weeks leading up to the Reza Gul's nose being cut off, community elders and Taliban representatives in the village had attempted mediating with the family as tensions escalated.
The incident underscores the unrelenting strain of violence and subjugation against women in Afghan society, where women are often seen as inferior and expendable.
Incredulously, severing women's noses is not unheard of in Afghanistan, and like most abuse happens more often than publicly acknowledged.
Notes a report via the nytimes: Her plight has again brought attention to endemic violence against women in Afghanistan, which the United Nations Development Program rated one of the worst countries in the world to be born female. Despite more than a decade of efforts to enact an Afghan legal system that protects women, and more than $1 billion in legal aid from the United States alone, Afghan women remain particularly vulnerable to abuse. And their attackers, for the most part, are only rarely punished.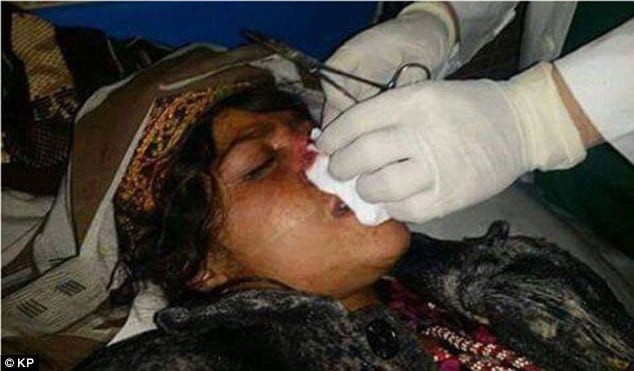 بینی خانم ریزه‌گل توسط شوهرش در ولسوالی غورماچ با چاقو بریده شد https://t.co/MShYCUHhQb pic.twitter.com/aYrnvmp5Yf

— AIHRC (@AfghanistanIHRC) January 18, 2016
In the aftermath of the Reza's mutilation, local authorities have told of organizing an airlift to take the woman to Turkey in order to acquire reconstructive surgery.
News of the attack led to outrage on social media where calls were made to bring tough action against the husband who has since escaped.
Offered Kabul-based women's rights activist Alema: 'Such a brutal and barbaric act should be strongly condemned.
'Such incidents would not happen if the government judicial system severely punished attacks on women.' 
Reports suggested the husband may have fled to the Taliban, though a spokesperson for the group claimed they too were searching for him and would deal with him according to Islamic law if captured.
The government has vowed to protect women's rights but that has not prevented deadly attacks.