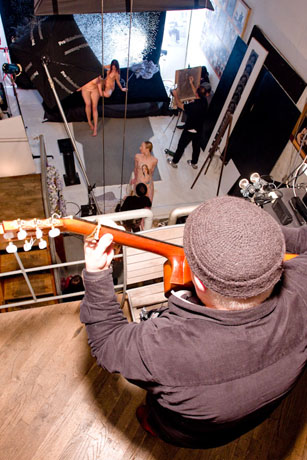 The idea of the salon has always had us in captive appreciation. In short it is the collective participation of bon vivants and their assailants in a communal dossier where by thoughts, good wine, music, literature and captive ideas are shared and acted on. A tradition stemming from the French dandies in the 1800's and carried on by literary zealots and dare we say scallywag – Oscar Wilde himself in the late 1800's, last night's arts salon party as hosted by the rakish Gilles Larrain and the equally lovable Louda was an outright success.
To say that guests were transported to another time dimension would be an understatement, with panache and the sickle of Gille's flamenco music in the background the mood was set for a widely beguiling evening. As patrons milled, absorbing the gesticulating visage of naked nubile women and the abundant and very savory rations on the communal table the rather affable Gilles at long last greeted me. We spoke in a huddled corner where he reflected on the passage of time and the fact that he had recently had come across pictures of Andy Warhol's transvestite friends of which he had taken pictures of back in 1972. Yes my dears, Gilles is a legend and the legends know him too well. With a half a mind to go looking for the pictures Gilles thought better of it and instead decided to offer this author a private viewing and tea date which said author is widely anticipating with relish.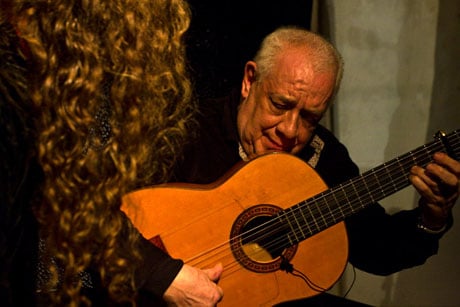 Gilles Larrain.
At this point Gilles who has a striking resemblance to the painter Pablo Picasso threatened us to quietly shut up where upon the most devout and most gracious singer-Andrew Drost– that I had come across in the longest time descended and began to sing Puccini's Tosca. To say that absolutely everyone in that room was a beautiful wreck listening to Drost would be an understatement. Drost who sings for the NYC Opera himself has an interesting journey which he was glad to offer. Once a national touring ballet dancer (where do some people find all this talent?) some ten years ago he suffered the agonizing experience of breaking his leg before a friend suggested while recovering he try his hand at singing opera… and my dears- opera it was!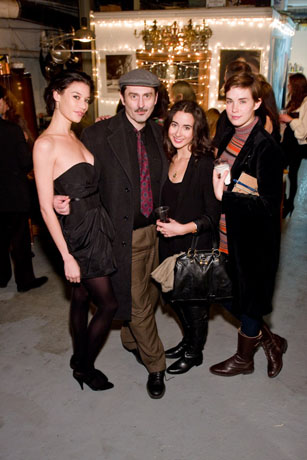 Radha Mimii, Scallywag, Carina Covella, Claire Armin.
From there we were offered the heart rendering poetry readings of Sam Ross who also left us in awe. Asked later what inspired him he offered mythology, domestic space and the way things sound in such spaces. He also offered that Anne Carson was a big influence, at any rate he was rather good and very much appreciated.
Upon more drinking and eating, yes- these are the wonderful pitfalls of attending well conceived salons the wonderful Saskia Slaaf who hails from the Maastricht disctrict of Holland graced us with her beauty by agreeing to be body painted into a combustible blue and white fairy pixie.
The evening proceeded with the same degree of elan and charm and on my way out I was tempted to find the old rake and give him a hug- but he was deep in the world of flamenco at this stage. I suppose I will have to save that hug for our imminent tea date. Well done Gilles and Louda. Well done indeed!
More of Keith Lew Photography at www.keithlew.com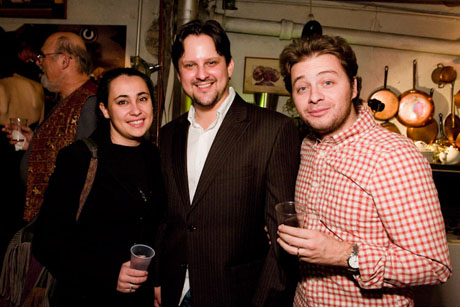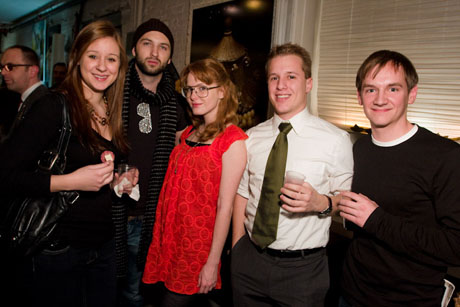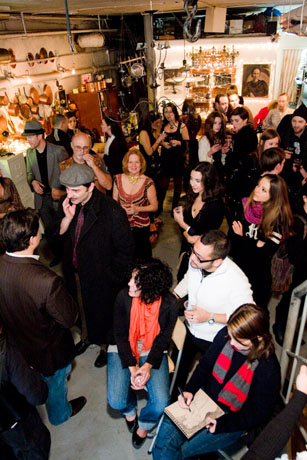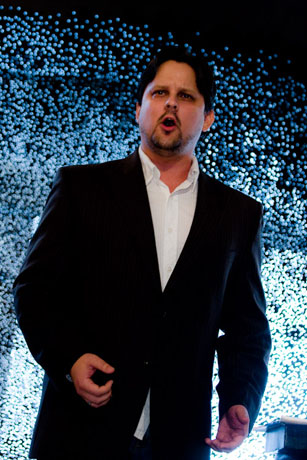 Andrew Drost.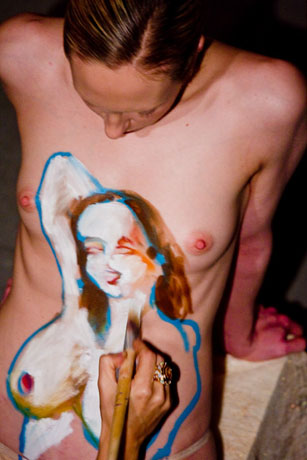 Saskia Slaaf.