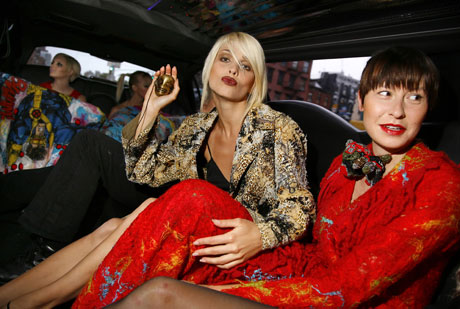 If you've ever wanted to know how to make a dramatic entrance to an exclusive party, just ask fashion and fabric designer Louda. She managed to cause quite the stir when she entered the Egyptian wing of the Metropolitan Museum of Art for the Russian Heritage Festival with four models dressed in her bold designs.
Louda was kind enough to invite me to her Soho studio to steal a moment with her before the event. I arrived to find her painstakingly pinning and adjusting one very tall model's outfit while others were upstairs having hair and makeup done. The dresses were striking for their intricately detailed fabrics that from a distance looked painted, but upon closer inspection were actually made out of precisely places clumps of thread. "I make the whole fabric," Louda explained, reluctant to divulge the amount of time her process takes.
Born and raised in Russia, Louda lived a real fairytale success story when she moved to Paris and was hired astonishingly quickly to produce fabric for top couture houses like Chanel and the apparently-now-defunct Christian Lacroix. These days Louda uses her fabric designs to create highly individualized pieces that have been featured all over the globe, including recent placement in China's top fashion magazine.
One of Louda's chief sources of creative inspiration is certainly her husband, professional photographer Gilles Larrain, who photographed the models before it was time to climb into the limousine. One of Louda's dresses prominently featured cutout prints of X-Men characters taken from fabrics that once belonged to Gilles' sons when he was much younger. Larrain, too, has been recently exploring the theme of superheroes and "dark angels" in his photography.
As the clock neared six, Louda began to shuttle the group out the door and into the waiting limo. Before she did, however, she offered to let me wear one of her creations- a large fluffy wrap jacket adorned with a bejeweled teddy bear. How could I resist? Louda and Gilles are both some of the kindest, friendliest people. If one ever gets a chance to talk to Gilles, make sure to ask him why he says hell is filled with beautiful women and bottles of expensive liquor.