When the limo pulled up to the Met, tourists looked on in awe as the four sky-high models posed for pictures on the steps. Commotion intensified when the group entered the grand hall in the Egyptian wing of the museum. Photographers swarmed as the girls posed by ancient statues. Their presence lent a bold, creative flair to an event that could have seemed a tad stuffy without them.
The party itself was a classy affair- the kind of event you wouldn't have been surprised to see Bernie Madoff at a year ago. Mayor Michael Bloomberg gave the kind of remarks one would expect from a politician, joking about his Kalinka skills and touting accomplishments like ensuring that translations, including Russian, are available for all public documents.
The crowd began to grow restless after the mayor's speech, but other treats of the night included a song by Israeli opera star Evgeniy Shapovalov and two impressive dance numbers from dancers of Dance With Me Social Dance Studios. Also in attendance were Katrina Smirnoff and Maksim Chmerkovskiy of 'Dancing with the Stars' fame, artist Yuriy Nagulko, and writer Andrey Dementiev.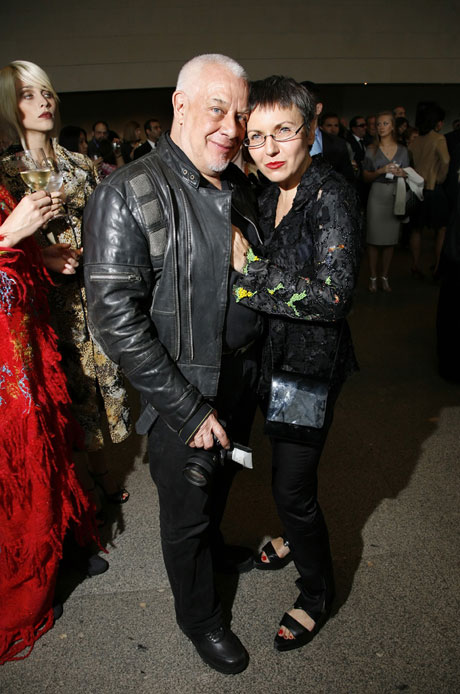 This event was Louda's first official involvement with the Russian American Foundation, but when asked to participate by foundation president Marina Kovalyov she was happy to lend her time. Hair, makeup, and the models' time were all donated, and occasionally obtained through rather unconventional means. Bluntly-banged blonde Brie Harding only moved to New York City earlier this month to pursue a modeling career, and became involved in this show when she was noticed walking on the street by Gilles and Louda. New York can be good to the young and beautiful.
Others deserving credit for the evening include Cressa of Almog Beauty Salon for hair, and models Elya, Maya Tyutina, and Twiggy look-alike Julia Joseph.