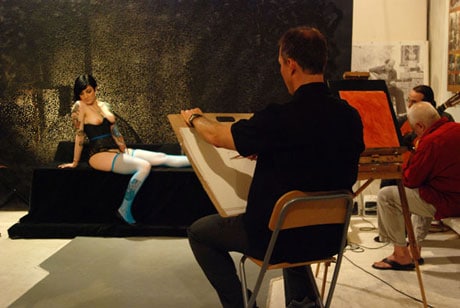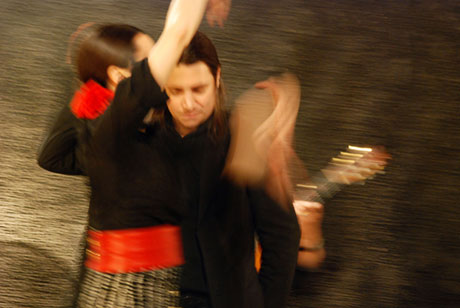 Gilles Larrain, preeminent SoHo photographer, artist, and flamenco guitarist has added another notch to his belt: supporter of New York City studio artists (and damn good party host). Along with organizer Thomas Shelford and Gilles' wife Louda, Larrain opened his multi-story SoHo studio for a party that features an intimate look at the process behind art creation. Tres chic.
First, the history. Five months ago, the inaugural Art Salon Party was designed as a one-off benefit for an environmental charity. The benefit was a success, and organizer-artist Thomas Shelford saw that attendees raved about the conceit of being able to observe him and other collaborating artists create portraits of live models in front of their eyes- a rare treat for even the most involved art connoisseurs. Meanwhile, artists and studios all over the city have been struggling to fend off the dual pressures of recession and the housing hangover. Thus, a monthly event was born that now provides a unique venue for local studio artists.
The appeal of the live observation provided by this event is obvious in modern society. Every author has a blog, every DVD has a commentary, every band has a MySpace, and every consumer still wants more, more, more. The urge to feel we deeply know our favorite artists of any medium has reached a fever pitch. The burning desire to become intimately acquainted with our stars fuels the entire tabloid industry, and we love them for it. Sure, Shakespeare never did record that DVD commentary for Hamlet, but don't doubt for a moment that there are legions of English majors out there wishing he did. Why else the recent fervor over a newly discovered portrait of the Bard? Enjoying art for art's sake is often no longer enough.
Onlookers at the Art Salon party were treated to a taste of the artists' working process. Model Jess Versus made a captivating center of attention for artists and observers alike with a demure pose that strikingly contrasted with her Suicide Girl look and fetish wear.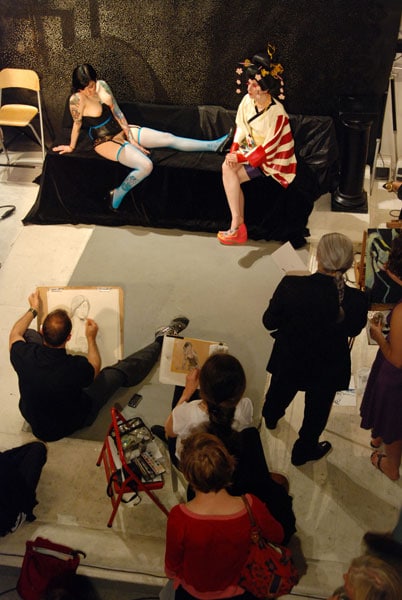 As the array of artists worked, the studio was filled with the sounds of flamenco guitar, supplied by none other than Gilles himself with friend and noted flamenco expert Ricardo Garcia. Louda explained that Gilles first became acquainted with the world of flamenco in the 1970s when he was sent on assignment to Spain to work with the gypsies. The authenticity shows. Flamenco dancer Lia Ocha was also featured in two enthralling dance numbers that truly stole the evening.
As the night wore on, other highlights included a raffle for an original Gilles Larrain print and a poetry reading by Roberto Dutesco. By way of introduction, Larrain scoldingly shushed the audience to absolute silence. This was Dutesco's first public reading of his work; he is primarily a photographer. He seemed to mask his nerves with a slightly prickly posture – he too paused between poems to insist the audience pipe down. "You're fabulous!" shouted one woman in attendance as way of encouragement.
Dutesco continued unabated from this point onwards to the rapt attention of the crowd. Perhaps the audience was also acutely aware they were witnessing the meeting of celebrity and artistry in the time of recession, because Dutesco drew his most thunderous applause when he concluded a poem with the words, "All things change, sometimes in bliss, and sometimes in flames."
Get in on the action yourself and support the New York art scene. The party happens on the last Thursday of every month and includes an open wine bar and plentiful appetizers. This is a can't-miss for anyone wanting to network in a crowd of notable artists, photographers, and friends. Check ArtSalonParty.com for more details on the next gathering.
Go to Scallywag's Photo Gallery.