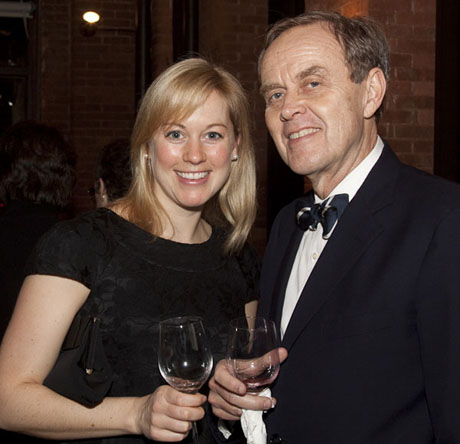 Generous hosts and donators, those of which included Paper's Mickey Boardman, rallied together to make last night's Art Book Holiday Benefit at the Astor Center a lovely event.  One hundred percent of the proceeds from the auction, raffle and $100 tickets to enter, went to The Lower East Side Girls Club to fund free arts and literacy after school programs for economically disadvantaged lower east side girls.
The gallery was stuffed with art world affiliates, many of whom bid away on an array of beautiful coffee table books, I had set my sights on Ron Galella's No Pictures but needless to say was quickly outbid due to my starving artist status.
Among this crowd was 80's filmmaker and cartoonist Marguerite Van Cook and husband James Romberger, both of whom had exhibits at MoMa. They were featured in the wonderful 1988, Your House is Mine book up for auction featuring art from the height of the east village political renegade/squatter/street artist movement.
The main auction included the 698 page XL-sized book Artists and Prostitutes by, my personal favorite, David LaChapelle (which was donated by LaChapelle himself).  The live page-turner flipped pages as I admired the vibrant colors with a glass of champagne. The book went for $2,400 until a mysterious donator toped off the price to raise it on up to $5,000! I take donations too…
The total amount generated from the event was $25,000, a success if I do say so myself.
To see more photos go to our photo gallery here.