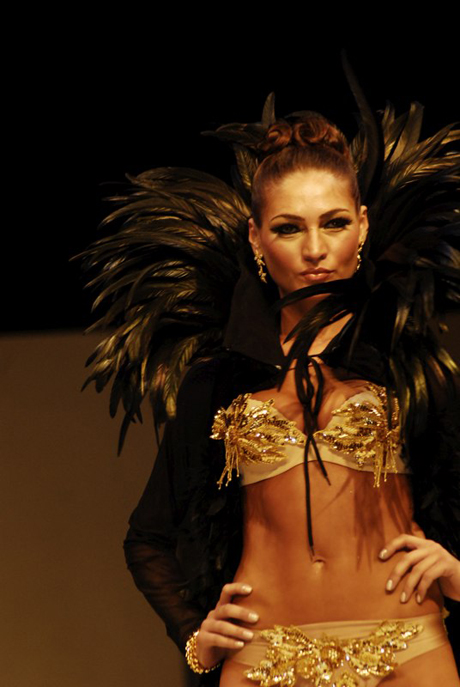 Honorees Naomi Campbell and Michael Jackson were the marquee names of the evening and they had everyone in a frenzy. "I don't know if the Jackson's will even show," said one Front Row board member. "When's Naomi coming? 11:30?" joked a photographer. Surprise, surprise…Naomi was early and already backstage getting her makeup done and low and behold, Marlon Jackson hit the red carpet at 7:37 PM. There was even a Shaun Ross spotting, the much, lauded avant-garde albino male model. So, the implications were clear that this was a highly regarded event amongst the community.
Just before the show was to get underway, a phenomenal musical duo called Nuttin' But Stringz blew the audience away with their explosive violin performance. So explosive in fact, that even the strings on their bows were popping off. This musical fencing match was a fitting addition to the night, since brothers Damien and Tourie Escobar began their careers with the help of VH1's Save the Music Foundation. Their music was without a doubt the highlight of the evening.
Finally, the show began and the first look down the runway was a male model in a sari with a nipple clamp adornment. Nico and Adrian never leave us disappointed and we eternally love them.We knew this show wouldn't be dull after that. Next up was a stark contrast with sophisticated work-wear designs by Magnamistyle. The standout look from this collection was a beautiful cream chiffon jump suit that simply f
lowed down the runway. Then came all the men in the audience's favorite. Ana Segura paraded her line of intimates and swimwear, which had some really sexy and flattering one-pieces. You could hear the men's jaws drop when an assymetrical keyhole stunner strutted down the runway. Montgomery showed some killer Africana inspired looks, including a beautiful caftan that garnered applause. DeanZign showed mostly floor length jersey dresses in solid bold colors including a flattering one-shoulder rusched fuscia knee length dress. Then there was Amsale, a well-established Ethiopian designer known for her stunning wedding dresses. The highlight here was the fierce tattooed bald model that Amsale sent out in a contrasting princess gown. Last but not least, there was Kai Milla's collection of sexy 80's inspired dresses like a hot leopard print one-shoulder dress with a ruffled collar and super hot body hugging red dress with a diamond cut-out in the back to show just the right hint of skin. Needless to say, this event was colorful from beginning to finish in more ways than one.