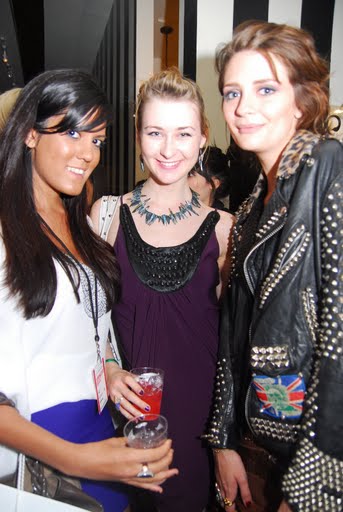 Taking a break from the botox-filled cheeks of women rocking hardcore stilettos and the ever-so-present sneers on their faces, it was a whole different ballgame at the much anticipated invite-only closing party of Fashion Week at the What Goes Around Comes Around retail store. Hosted by none of than Robert Verdi, model Irina Lazareanu, and Becka Diamond, guests mingled and hung around in small clumps drinking the cocktails from the open bar and nibbling the finger foods from the tray that a waiter was carrying around.
The once spacey Soho store was packed to the rims with hipsters as the sounds of the DJ was practically drowned out by the rumbles of conversation. All heads seemed to turn when Mischa Barton, with the usual entourage of paparazzi screaming in vain outside, entered the store.
A clump of models stood and sat like mannequins with vacant looks in their eyes modeling clothes ranging from plaid shirts to fur hats to studded leather jackets. A small runway show took place with models strutting down a narrow carpet that acted like a runway. With a vintage-inspired collection, which What Goes Around Comes Around is famously known for, the clothes were 70's influenced with a bohemian chic "I-don't-care-about-my-appearance" vibe (if only that were true in reality).
To my left our own very own Scallywag was seen in deep discussions with 'The Eldridges' Matt Levine as well as Brad Leinhardt. He was also later seen making numerous trips to the bar and paying a certain amount of attention to as a yet undisclosed woman who unfortunately for Scallywag payed little attention to him. (Sorry Scallywag…)
An ironic contrast to the form fitting dresses and smart business suits that were all that could be seen within a 5-mile radius of The Tents at Bryant Park, the crowd and the clothes that were being visualized were vastly different. It was almost metaphorical in the sense that with Fashion Week finally coming to an end (and having the actual closing party in this location), and the dreams and twinkling of the fashion world fading away back into magazine obscurity, the emergence of the ever-so-present hipsters in New York City were waking up from their one week slumber and making their comeback out of their West Village cocoons into the streets of New York City once again. 
Go to Scallywag's Photo Gallery.