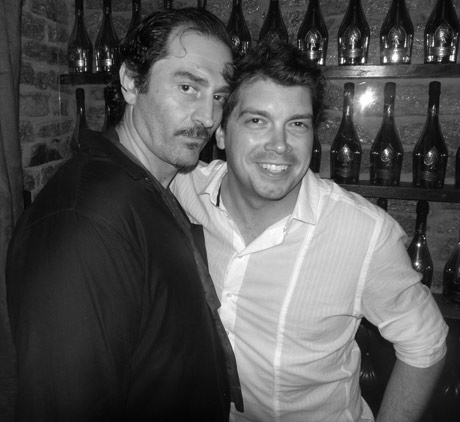 Intrigued by Matt Levine's ascent in the world of cocktails and the ever revolving finessing that goes on to whet your appetite we recently headed out to one of our haughty (but delightfully decadent ) preferred venues where we mixed it up with Matt and 'Pernod Ricard's' Jamie Gordon where we wondered out aloud what makes for a good drink, and why you'll probably be back at the the lower east destination that we you know you all love to hate but turn up to religiously anyway.
It's a Tuesday night and it's at least a six foot deep crowd of long limbs and cheekbones vying for their permission to saunter in Matt Levine's 'The Eldridge' where just in front of me Paul Sevigny is spinning his heart out while the nubile boys and girls are swiveling to transcendent beats and the heat of flirting furtive glances. It's a scene that doesn't go un noticed by the likes of you and me because in so many ways it's why we keep dragging our asses here…
To the right of me stands the attentive frame of Jamie Gordon, once copy boy, once bar back, once bar hustler and barman and current darling of 'Pernod Ricard' where he is entrusted with the valiant task of figuring out what you'll want to drink next, and next after that. What follows is an intriguing discussion of the art of what makes for a good drink, what it all means and how at the end of the day embracing one's Dyniosian sensibilities is a matter of balance, assuming one can follow the ever approaching pall for last call…
SCV: I'm curious Jamie, what makes for a good drink?
JG: Balance. You never want a drink to either to be too sweet or too sour. It's all about sustaining an even taste.
SCV: We've noticed in recent times an acceleration by mixologists to concoct the most intriguing recipes. What is that all about?

JG: Well, what's happened the idea of finessing taste, experience and gastronomical pleasure has extended itself to what we drink. So much that it's become a very important aspect of the going out experience. It will never out do the experience of going out but as going out has become, like here at the Eldridge a sophisticated enterprise, so have the desires of the patrons who now demand more discerning and inventive beverages.
SCV: They demand them or you introduce them to it?

JG: Both it's an evolving equation, people are always curious by what's out there, what serves to define their tastes and how we in return satisfy and tantalize those tastes.
SCV: So what is this delicious concoction that I'm drinking now?

JG: Ok, what you're drinking now is called the The Essex- which comes as follows:
2 oz ABSOLUT MANDRIN

3 Leaves Fresh sage
2 Lime Squeezes
Top Ginger Beer
1 spoonful Blackberry-Chili* jam on top
SCV: I have to admit, I'm just salivating over the blackberry jam, it's just locks it.  Will I get drunk drinking these?
JG: We never encourage anyone to get drunk, it's about complementing the evening experience.
SCV: It's kind of like fine dining. You never want to eat too abandon, but just enough to satisfy your curiosity and taste buds. What about what she's drinking (I reach over without really asking the femme fatale sitting next to me permission- and take a quick sip)

JG: Well, that (probably wondering to himself if all reporters are as gallant and misbehaved as me…) …well that's The Houston:
1 1/4 oz ABSOLUT 100

2 oz Cloudy Apple juice
2 dashes Peach Bitters
1 Fresh Shiso Leaf
1/4 oz Fresh Lime juice
Shake and strain over fresh ice; garnish w/ a lime squeeze
What makes this drink is the shiso leaf. It's got a citrus tinge to it and it really ties the drink in.