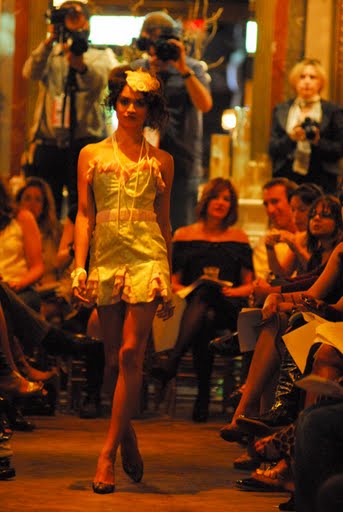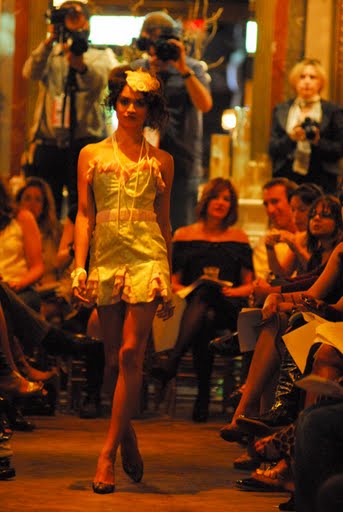 Coming to see the effervescent collection of Tiffany Koury was like coming to a mid century Viennese ball with the requisite élan of a whimsical evening with the patina of the Casbah and Middle Eastern verve. Her girls sultry vixens strutted down the plank but really where they wafted to was somewhere deep in the recesses of your imagination…
With references to the chanteuses of the 1920's Koury sent her girls in billowy gowns, strapless bodices, fitted silk taffeta corsets, luminous pleated bodices and the suggestive body language of a feisty sex fiend on the prowl. As all things erotic Koury only suggest the foreboding affair you have in your imagination as opposed to explicitly stating it. With ruffled halter tops, turquoise shades, ruby emerald and lilac dispositions she creates a subtle and intriguing aroma. One half expects the girls to pull at a cigarette at any moment and sip on her Campari as she gently walks by you. 
With enviable attention paid to tailoring (the best we had seen outright), mosaic, pattern and the gentle weaving and undulating of fabric Koury manages to re create the subtle gesturing of a by gone period. Imagine what you may find on a rainy afternoon at your favorite vintage shop while reading Edith Wharton while in transit from the Casbah onto a late sojourn on the Left Banks of Paris.
In short a witty, whimsical collection that every girl will find herself luxuriating in and by default teasing the pants of any brave man that should come close to them…
Go to Scallywag's Photo Gallery.